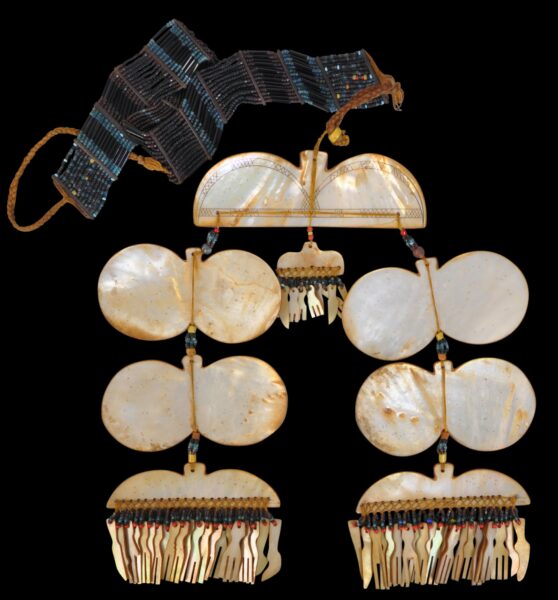 8991
Enquiry about object: 8991
Isneg Mother-of-Pearl & Bead Chest Ornament (Sipatal)
Isneg People, Northern Luzon Island, Philippines early 20th century
length of glass bead strands: 30cm, length of mother-of-pearl shell components: approximately 21.5cm, weight: 159g
Provenance
private collection, London, UK
This fine example of a chest ornament worn by the Isneg people of northern Luzon is made from mother-of-pearl shell, glass trade beads, and string fashioned from pineapple fibre. Such an ornament was worn to indicate high social status and was worn by both men and women.
The example here comprises two three-tiered strands of mother-of-pearl shells beneath a double-lobed section of mother-of-pearl that has been incised with geometric designs and darkened with lac, all suspended from a beadwork collar with tortoiseshell or horn spacers. Between the two main strands is a central pendant section. From this and each of the main strands are fringes of tiny glass beads of various colours and dozens of small sections of mother-of-pearl cut in the shapes of knives and forks.
The mother-of-pearl shell came from nautilus shells brought in from the Pacific coast of northern Luzon. The shell was expensive and so only the wealthiest families could afford such ornaments.
Related examples are illustrated in Borel (1994, p. 186), Henkel (2009, p. 143), de Monbrison & Alvina (2013, p. 207), and Geoffroy-Schneiter (2011, p. 240).
The example here is in excellent condition.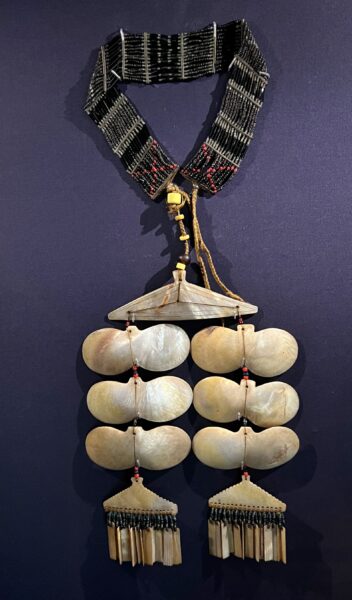 Above: A related example displayed in the Asian Civilisations Museum, Singapore.
References
Barados, D., Land of the Morning: Treasures of the Philippines, San Francisco Craft & Folk Museum, 1995.
Borel, F., The Splendour of Ethnic Jewelry: From the Colette and Jean-Pierre Ghysels Collection, Thames & Hudson, 1994.
Geoffroy-Schneiter, B., Asian Jewellery: Ethnic Rings, Bracelets, Necklaces, Earrings, Belts, Head Ornaments, Skira, 2011.
Henkel, D., et al, Land of the Morning: The Philippines and its People, Asian Civilisations Museum (Singapore), 2009.
de Monbrison, C., & C. S. Alvina (eds.), Philippines: An Archipelago of Exchange, Musee du Quai Branly, 2013.