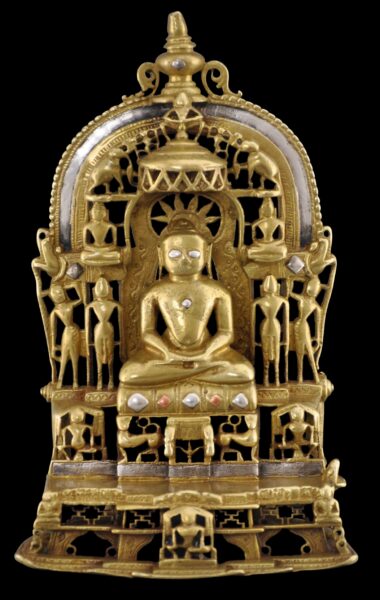 8629
Enquiry about object: 8629
Jain Brass Shrine inlaid with Silver
Jain community, Western India dated Samvat 1416 (1419 AD)
height: 17.1cm, width: 11cm, depth: 7.7cm, weight: 750g
This Jain shrine is of brass and inlaid with silver. It has much devotional wear as befitting its 15th century origins. It is of pierced, arched form, and topped with a sacred vase (kalasha) finial.
As is usual of Jain images of this period, the figures are arranged in a severely geometric configuration. The stylised convention of the array gives the altarpiece an almost abstract composition.
The central Jina figure is shown with a large, oval head, elongated ears and broad shoulders, and is seated cross-legged on a cushion on a simhansaor or lion throne, beneath a parasol that is being lustrated on either side by elephants, and is is flanked by further, small Jinas and chauri bearers. The lustration of the parasol implies the lustration of the Jina. Also, the parasol has a pendant fringe which is meant to suggest suspended strings of pearls.
Together with the pair of standing Jinas and two sitting Jinas, the central figure forms a 'five-Jina image' or a pancatirthi.
The eminence of the central figure is suggested by its relative size and its augmentation with silver inlay, including the srivatsa symbol on his chest. The cushion on which the Jina sits is alternately inlaid with silver and copper.
There is a description on the reverse in Devanagari script and a date Vikrama Samvat 1416 (which corresponds with circa 1419 in the western calendar.)
References
Pal, P., Indian Sculpture, Volume 2 – 700-1800, Los Angeles County Museum of Art, 1988.