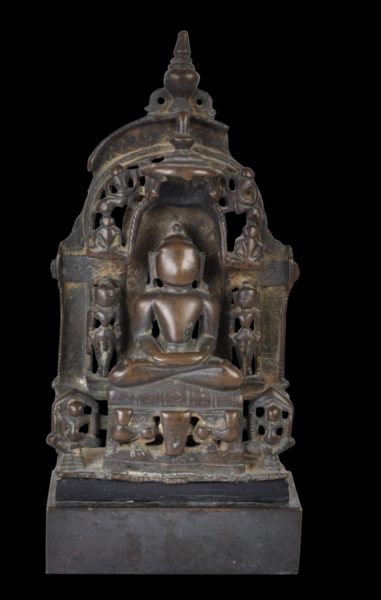 5901
Enquiry about object: 5901
Jain Five-Jina Bronze
Jain Community, India circa 15th century
height with stand: 14.2cm, height without stand: 12.1cm, width: 6.6cm, depth: 2.3cm, weight without stand: 260g
The form of this well-worn bronze altarpiece is characteristic of fifteenth century Jain bronzes.
The principal Jina, is shown with a large, oval head, elongated ears and broad shoulders. He is seated cross-legged on a cushion on a lion lion throne. Together with a pair of standing jinas and two sitting jinas, the central figure forms a 'five-jina image' or a pancatirthi. Other figures are attendants and celestial nymphs, some of whom are seated while others stand.
Rising above the group is a parasol from which a now worn pendant fringe meant to symbolise strings of pearls is suspended. The arch of the throne is topped by a tall, narrow-necked vase, the kalasha.
There is a description on the reverse in Devanagari script.
The image is much worn through ritual handling. It is accompanied by a custom-made stand.
References
Pal, P., Indian Sculpture, Volume 2 – 700-1800, Los Angeles County Museum of Art, 1988.