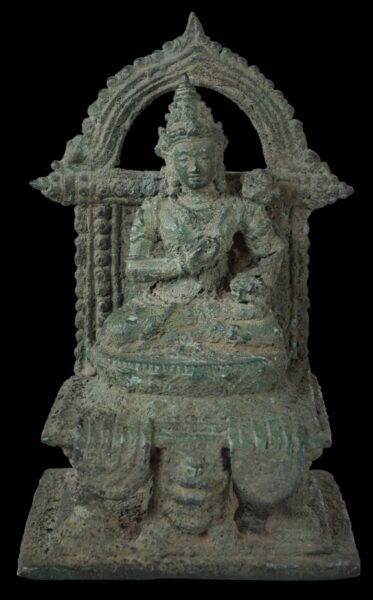 8486
Enquiry about object: 8486
Javanese Bronze Image of Seated Bodhisattva Padmapani
Central Java, Indonesia 9th-10th century
height: 16.7cm, width: 10.4cm, depth: 8.9cm, weight: 1,996g
Provenance
formerly in the collections of Professor Samuel Eilenberg (1980s), Jerry Mitchell & John Bartlett, UK.
This image of the Bodhisattva Padmapani shows the deity, with a pleasing face, seated on a raised dais on a throne and with a flaming aureole of backing plate. The left hand of the deity holds a padma or red lotus stem, and the lotus flower is above the left shoulder. Arms bands, a prominent jewelled necklace, earrings and a high, tiered crown are among the jewellery adornments.
The image is unusual in that two flaps spill from the front of the throne – possibly intended to signify animal pelts or woven textile. A tiger-type creature stands beneath the throne. Its face peers from beneath the textile flaps and its tail curls out the rear of the throne.
The image dates to the 9th-10th century, at a time when both Buddhism and Hinduism co-existed in Central Java.
The image has a thick, encrusted, green patina. There are no losses or repairs. The image is of a good size and excellent provenance. The base retains a label from the previous collector detailing the past provenance, which we have confirmed from Jerry Mitchell, one of the previous owners mentioned.
References
van Lohuizen-de Leeuw, J.E., Indo-Javanese Metalwork, Linden-Museum Stuttgart, 1984.
Lunsingh Scheurleer, P., & M.J. Klokke, Ancient Indonesian Bronzes: A Catalogue of the Exhibition in the Rijksmuseum Amsterdam with a General Introduction, E.J. Brill, 1988.