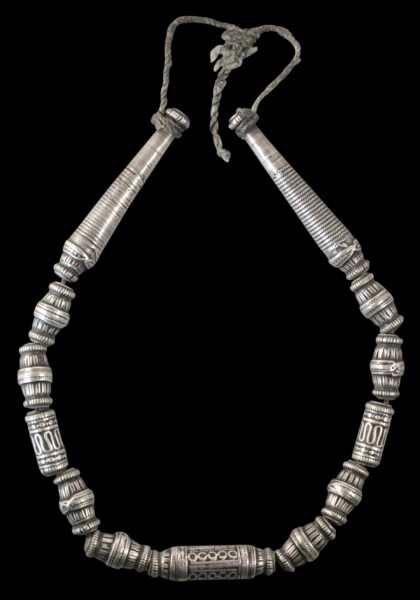 9326
Enquiry about object: 9326
Yemen Silver Necklace
Jewish community, Hadramaut region, Yemen early 20th century
circumference: approximately 72cm, length of central pendant bead: 6.4cm, weight: 279g
Provenance
private collection, UK
This type of necklace is relatively scarce. Each bead is quite heavy and cast from solid silver and then further chiselled and engraved. The necklace comprises various types of barrel-form beads and two elongated conical finial beads finely worked with spiral, rope-like decoration.
A very similar example is illustrated in Leurquin (2003, p. 174) who identifies it as having the forms that are characteristic of Jewish jewellery produced in Yemen. Author and researcher in this area, Marjorie Ransom however suggests such necklaces were made by Muslim silversmiths in Shihr, in the southern Hadramaut region.
The necklace is striking and wearable.
References
Leurquin, A., A World of Necklaces: Africa, Asia, Oceania, America from the Ghysels Collection, Skira, 2003.
Marjorie Ransom, pers. comm.