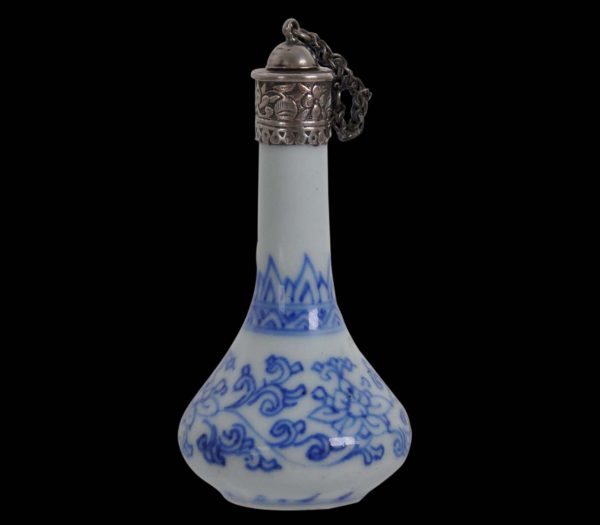 5671
Enquiry about object: 5671
Kangxi Chinese Porcelain Flask with Indian (or Similar) Engraved Silver Mounts
China & India or similar Kangxi Dynasty, 17th-18th century
height: 9.6cm, weight: 66.8g
Provenance
private collection, UK
This fine, miniature porcelain flask was made in China for export to India, Southeast Asia or perhaps Ottoman Turkey. The silver mounts are not Chinese but most probably Indian (or similar) judging by their form, and the manner in which they have been engraved.
The flask is decorated in powder blue and white with lotus scrolling.
The silver is engraved with a floral band. The rim of the mouth is engraved lightly with a sun-burst pattern. A little domed cap sits in the mouth of the flask and this is attached to the rest of the silver by means of a small silver chain.
The flask sits on a low ring foot The base of the flask has a neat seal mark which reads 'Treasure' in Chinese.
The flask is in perfect condition. It is possible that it was used to hold snuff or perhaps some sort of treasured liquid such as a perfume.
References
Ucok, A. (ed.), Chinese Treasures in Istanbul, Ministry of Foreign Affairs of the Republic of Turkey, 2001.