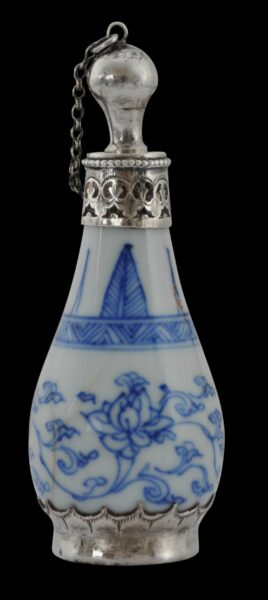 7098
Enquiry about object: 7098
Kangxi Chinese Porcelain Snuff Bottle with Indian (or Related) Engraved Silver Mounts
China & India or similar Kangxi Dynasty, 17th-18th century
height: 9.6cm, width: 3.8cm, weight: 51g
– scroll down to see further images –
This fine, miniature porcelain, elongated flask was made in China for export to India, Southeast Asia or perhaps Ottoman Turkey. The silver mounts are not Chinese but most probably Indian (or similar) judging by their form, and the manner in which they have been decorated.
The flask is decorated in powder blue and white with lotus scrolling.
The silver is pierced and engraved with a floral band.  A silver stopper with a tall globular finial sits in the mouth of the flask, and this is attached to the rest of the silver by means of a small silver chain.
The foot of the flask has been encased in silver as well. This has a crenulated upper edge and is engraved.
The porcelain base is marked with the characters: 成 化 or 'Cheng Hua'. Literally that translates a: 成 – become, and  化 – transform into. This is not a name and probably not even a shopname – the configuration is unusual, so it is unclear what this mark is meant to represent.
It is likely that the vessel was intended to hold snuff, or perhaps perfume.
There are old cracks to the porcelain. It seems likely that the porcelain was cracked first and then the silver mounts were applied to preserve the flask – it being considered an imported, costly luxury good worthy of preservation by the application of such mounts. It is in a fine, stable condition.
References
Ucok, A. (ed.), Chinese Treasures in Istanbul, Ministry of Foreign Affairs of the Republic of Turkey, 2001.