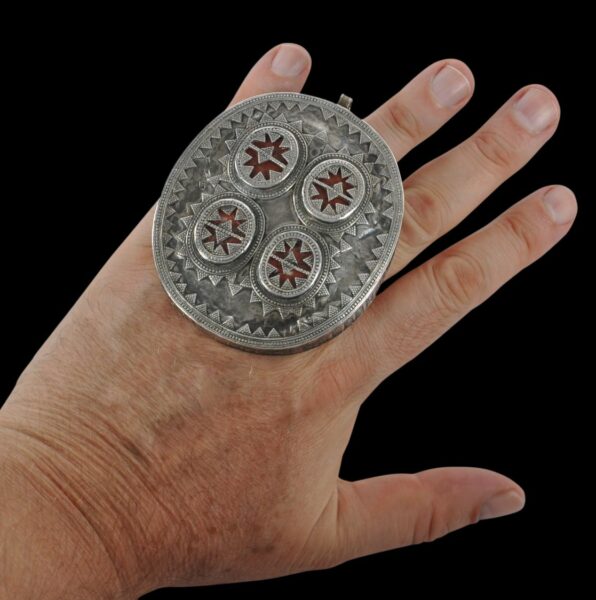 6550
Enquiry about object: 6550
Kazakh Silver Matchmaker's Finger Ring (Zhuzik)
Kazakh people, Kazakhstan - Central Asia 19th-early 20th century
length (widest): 7.9cm, weight: 114g
Provenance
Dutch art market
– scroll down to see further images –
This large and spectacular oval-shaped ring is from the Kazakh people of Central Asia. It is improbably large – indeed, this type of ring is among the largest every produced and intended to be worn. It is of silver inset with glass.
The face or bezel is decorated with superb granulation work and inset with glass backed with red foil in four oval-shaped cartouches. The back has a single finger hoop through which one finger would be inserted. A small loop on one side of the ring would have allowed more chains or other attachments to be linked to the ring.
It would have been commissioned to be presented by the mother of the bride to the matchmaker and was known as a zhuzik. (However, Ghose (2016, p. 153) says that such rings were presented to the mother -in-law.) Such rings subsequently would have been worn for their talismanic or protective properties.
Related examples are illustrated in Borel (1994, p. 131), Seiwert (2009, p. 223), Geoffroy-Schneiter (2011, p. 66-67), Bashkanov et al (2012, p. 299) and Ghose (2016, p. 153).
The example here has good wear and obvious signs of age. It is without losses or repairs.
References
Bashkanov, M., M. Bashkanov, P. Petrov, & N. Serikoff, Arts from the Land of Timur: An Exhibition from a Scottish Private Collection, Sogdiana Books, 2012.
Borel, F., The Splendour of Ethnic Jewelry: From the Colette and Jean-Pierre Ghysels Collection, Thames & Hudson, 1994.
Geoffroy-Schneiter, B., Asian Jewellery: Ethnic Rings, Bracelets, Necklaces, Earrings, Belts, Head Ornaments, Skira, 2011.
Ghose, M. (ed.), Vanishing Beauty: Asian Jewelry and Ritual Objects from the Barbara and David Kipper Collection, Art Institute of Chicago, 2016.
Seiwert, W.D., Jewellery from the Orient: Treasures from the Bir Collection, Arnoldsche Art Publishers, 2009.