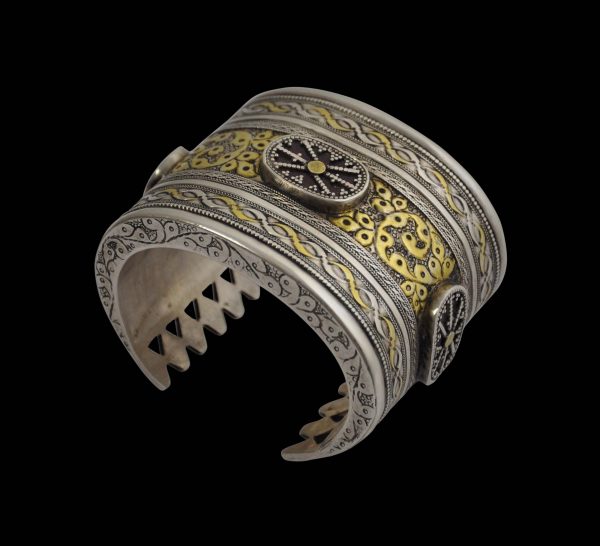 3560
Enquiry about object: 3560
Kazakh Parcel-Gilt Silver Bracelet
Kazak People, Central Asia early 20th century
height: 5.7cm, exterior width: 7.4cm, interior width at widest point: 6cm, weight: 158g
This silver cuff bracelet is from the Kazak people of Central Asia. It is decorated with engraved motifs and embellished with fire gilding (gold plating) and applied granular work as well as being set with three red glass disks.
The bracelet is open on one side and edged with serrated, triangular elements known as 'snakes' heads' meant to symbolise life and give the wearer talismanic protection.
See Geoffroy-Schneiter (2011, p. 63) for related examples.
The fire gilding that has been used in the bracelets is characteristic of Kazak jewellery. The process involved the application of an amalgam of mercury and gold to the surface of the silver. Heating causes the mercury to evaporate leaving a gold layer fixed to the surface. The process was extremely dangerous on account of the mercury fumes.
Like the Turkoman, traditionally, the Kazaks had their daughters marry between the ages of 12 and 15. Such a bracelet would have been part of the wedding jewellery.
It is in fine, wearable condition, without losses or repairs.
References
Borel, F., The Splendour of Ethnic Jewelry: From the Colette and Jean-Pierre Ghysels Collection, Thames & Hudson, 1994.
van Cutsem, A., A World of Bracelets: Africa, Asia, Oceania, America, Skira, 2002.
Geoffroy-Schneiter, B., Asian Jewellery: Ethnic Rings, Bracelets, Necklaces, Earrings, Belts, Head Ornaments, Skira, 2011.
Hoek, C.,  et al, Ethnic Jewellery: From Africa, Asia and Pacific Islands, Pepin Press, 2004.
Masterpieces of Rijksmuseum Volkenkunde, Rijksmuseum Volkenkunde, 2013.