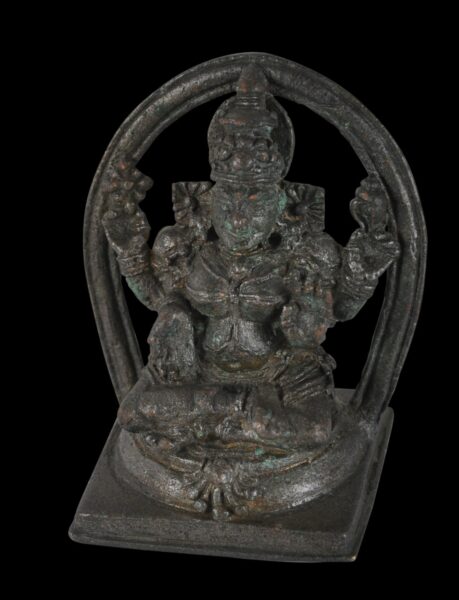 8968
Enquiry about object: 8968
Kerala Small Bronze Image of Vaishnavi
Kerala, South India circa 17th century
height: 5.9cm, width: 4.1cm, depth: 4.2cm, weight: 148g
– scroll down to see further images –
This elaborately detailed, small bronze shows the goddess Vaishnavi or Lakshmi. It was cast using the lost wax process and dates circa 17th century Kerala, in the south-western corner of India.
The image sits cross-legged on a rounded cushion atop a rectangular base. A rounded aureole rises behind the image.
Vaishnavi here has two pairs of arms. The lower set are in varadamudra. The upper set hold attributes – a conch (shank) and a discus (cakra) in floral form.
The deity wears a high, conical crown, spectacular floral ear ornaments, and much other jewellery.
The elaborate features have retained much of their definition despite much ritual use. There are losses to the extremities from age and use. Overall, this small bronze is particularly unusual, dynamic and sculptural.
See a related small image which comprised lot 69 in  Christie's New York, 'The James and Marilynn Alsdorf Collection', March 22, 2011.
Bronzes from Kerala are rarer than those from much of the rest of India.
The bronze here is in fine condition and has a dark patina.
References
Mitchell, A.G., Hindu Gods and Goddesses, UBSPD, 1982.