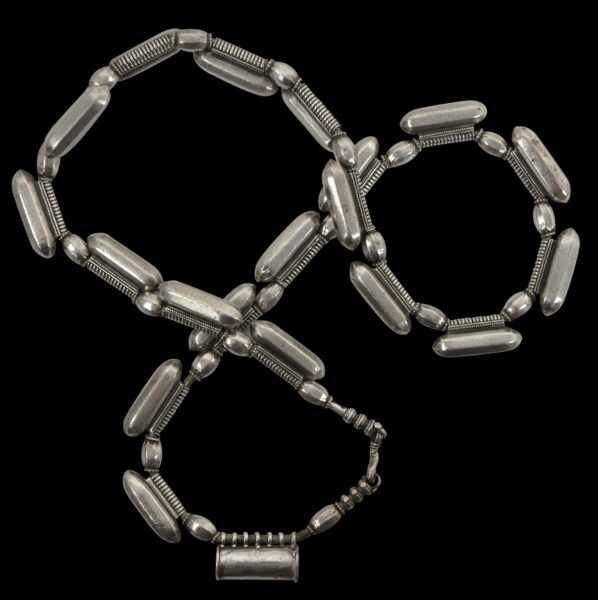 8767
Enquiry about object: 8767
Superb Keralan Silver Amulet Chain
Kerala, South India 19th century
overall length: approximately 83cm, length of individual amulets: 3.6cm, weight: 194g
Provenance
private collection, England
Strictly, this item was used as a waist ornament but in a contemporary setting can be worn as a striking necklace. It is of solid silver and has the most wonderful softness from age and handling.
Such belts were worn by classical kathakali male and female dancers in Kerala on South India's west coast. They were also worn for everyday use.
The base is a braided silver wire cord on which there are closed amulet cases (elas) spaced by smaller octagonal silver beads. Adjacent to the silver clasp is a cylindrical amulet box.
Overall, this is a beautiful and very wearable item.
References
Geoffrey-Schneiter, B., & M. Crick, Bijoux D'Orients Lointains: Au Fil de L'Or au Fil de L'Eau, Foundation Baur, Musee des Artes D'Extreme-Orient/5 Continents, 2016.
Nadler, D. & S., Silver: From Fetish to Fashion, PDN Publishing, 2005.
Untracht, O., Traditional Jewelry of India, Thames & Hudson, 1997.