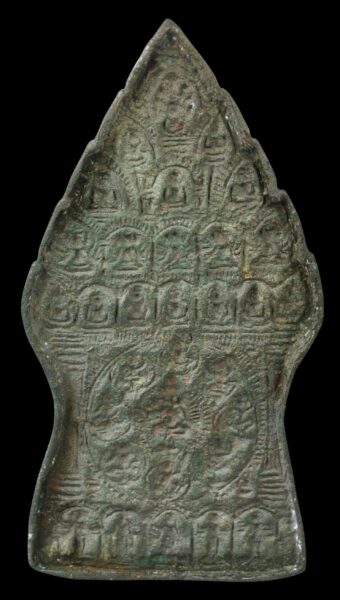 7295
Enquiry about object: 7295
Khmer Bronze Votive Mold of Hevajra
Khmer, Cambodia Bayon period, circa 12th century
length: 18.3cm, width: 9.8cm, weight: 425g
Provenance
Estate Collection of Tom White MBE, who served as a British diplomat in Southeast Asia in the 1960s and 1970s.
Khmer votive molds, used to make clay votive plaques, from the Angkor Wat and Bayon Periods are relatively rare. We know of only one – from the Bayon Period – an example in the National Museum of Cambodia, that has been illustrated. It too follows the scheme of the example here. Both are ritual items of the Hevajra cult with its tantric practices.
The central figure in the mold shows the multi-armed figure of Hevajra, dancing on a corpse and surrounded by eight yoginis in roundels. Various other deities arranged according to rank are shown above and below Hevajra. The mold is in Mount Meru form, Mount Meru being the mythical abode of the gods.
The reverse has an applied bronze handle, possibly of naga form.
Hevajra became the major deity responsible for protecting the state after the coronation of Jayavarman VII.
The National Museum of Cambodia's Hevajra mold is illustrated in Bunker & Latchford (2011, p. 383) and Cort & Jett (2010, p. 69).
The example here is in fine condition with ample green encrustation.
References
Bunker, E.C. & D. Latchford, Khmer Bronzes: New Interpretations of the Past, Art Media Resources, 2011.
Cort, L.A. & P. Jett (eds.), Gods of Angkor, Bronzes from the National Museum of Cambodia, Smithsonian Institution, 2010.
Zefferys, M.L., N.S. Zefferys & J. Stone, Heaven and Empire: Khmer Bronzes from the 9th to the 15th Centuries, White Lotus, 2001.