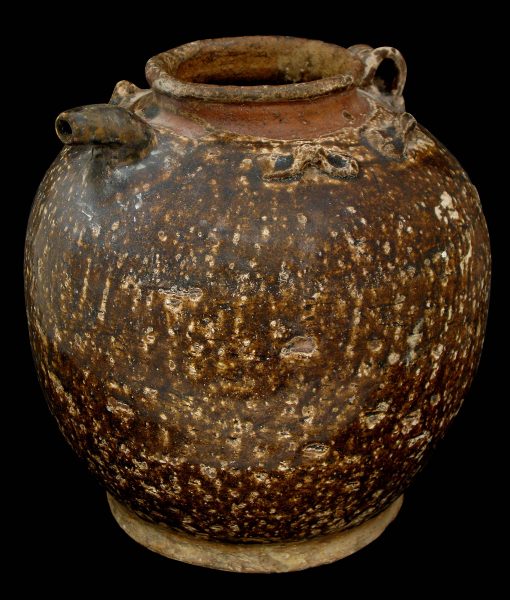 609
Enquiry about object: 609
Khmer-Thai Earthenware Storage Jar
North-Eastern Thailand circa 12th century
height: 25cm; diameter at widest point: 23cm (approx.)
This jar of light-coloured clay with a runny caramel brown glaze has a short open neck, a narrow protruding neck and four side lug handles and one at the back. It sits on a small foot that he been left unglazed. The jar is in good condition with no cracks or chips. Salting of the glaze is evident, this being consistent with burial. Possibly jars of this type were used for storing and pouring rice wine.
North-Eastern Thailand was a major production area for Khmer ceramics around the 11th and 12th centuries. The Khmer presence in Thailand diminished from around the end of the twelfth century.
Similar jars are illustrated in Treasures from the National Museum Bangkok, (1987), and Brown (2000).
References
Brown, R., The Ceramics of South-East Asia: Their Dating and Identification, 2nd ed., Art Media Resources, 2000.
Treasures from the National Museum Bangkok, National Museum Volunteers Group, 1987.