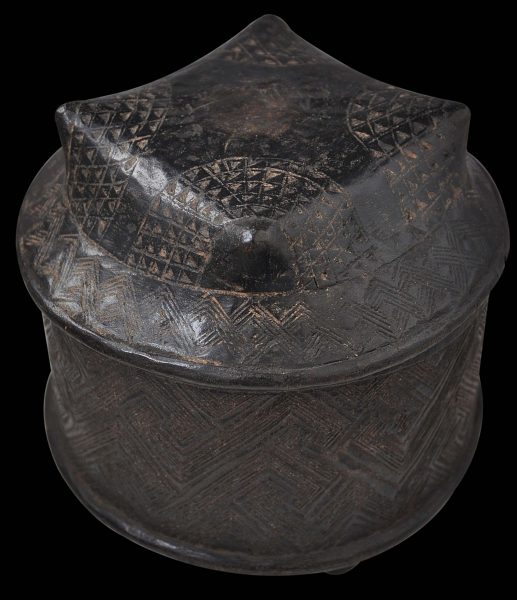 1897
Enquiry about object: 1897
Kuba Carved Wooden 'Basket' Camwood Powder Bowl & Cover
Kuba People, Congo 19th century
height: 5.5cm, diameter: 17cm
According to Binkley & Darish (2009, p. 27), 'the Kuba were exceptional in the creation of an array of decorated boxes for storing personal possessions.'
The Kuba people of the Congo traditionally decorated everyday objects with intricate geometric patterns.
The form and patterns carved into this solid wooden box and cover clearly are meant to imitate traditional Kuba cane baskets. The cover has a raised central section of square form, the corners of which are raised to emulate the form of a traditional basket. The feet of the base, though not as pronounced, follow this form.
Traces of the original contents – camwood powder – are to be found inside. Camwood powder was mixed with palm oil to form a red paste-like pigment (tool) that was applied as a body decoration and for dyeing textiles.
A similar example, although with less clearly defined woven cane motifs, is illustrated in Ginzburg (2000, p. 71).
The example here is a splendid example. The patina is rich, deep and encrusted from both age and use. The cover might originally have had a finial but there is not one now.  The box was acquired in the UK and almost certainly has been in the UK since the colonial era.
References
Dyke, C. V., African Art from the Menil Collection, Yale University Press, 2008.
Ginzberg, M., African Forms, Skira, 2000.