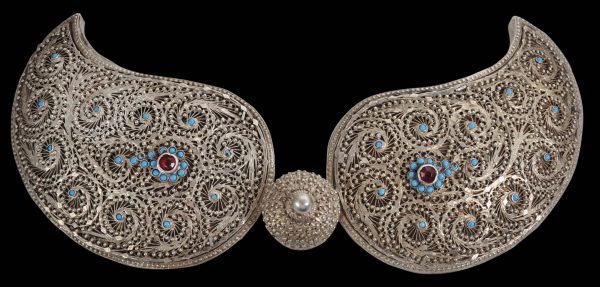 4932
Enquiry about object: 4932
Kurdish Silver Buckle
Kurdish People, Northern Iraq early 20th century
length: 31cm, height: 12cm, weight: 381g
This buckle from the Kurds of northern Iraq, is of very high-grade silver and comprises two symmetrical halves of Ottoman-inspired boteh shape, with the clasp hidden beneath a domed roundel.
The two halves are decorated with silver filigree swirling motifs decorated with silver granulation work and turquoise glass cabochons in silver box settings. Each also has a faceted red glass insert in a high silver box setting.
Sheets of mica or some other similar material are beneath the filigree plates and the reverse has sheet silver backing plates with silver bars to which the belts would have been attached.
Important and expensive buckles such as this example would have been reserved for important life-cycle festivities such as those associated with weddings.
A similar buckle is illustrated in Al-Jadir (1981, p. 130). Another is illustrated in Seiwert (20089, p. 284).
The buckle is in excellent condition.
References
Al-Jadir, S., Arab & Islamic Silver, Stacey International, 1981.
Seiwert, W.D., Jewellery from the Orient: Treasures from the Bir Collection, Arnoldsche Art Publishers, 2009.