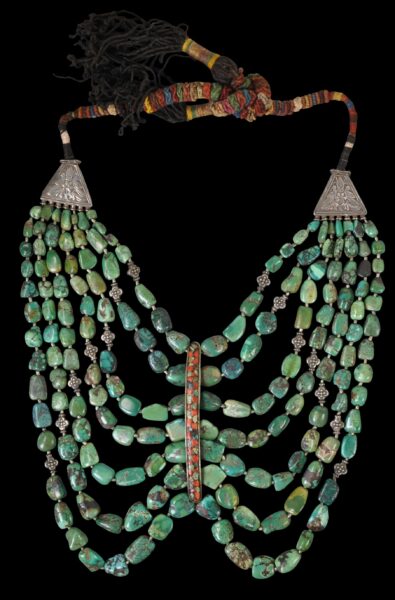 9310
Enquiry about object: 9310
Outstanding, Large Ladakh Seven-Strand Turquoise Necklace (Ultik)
Ladakh, Himalayan India late 19th century and earlier
length between (and including) the two silver terminals: 38cm, weight: 659g
Provenance
private collection, US
This spectacular necklace is from Ladakh in the foothills of the Himalayas or from an adjacent area. It comprises more than half a kilogram of turquoise with 170 pieces in all. Rarely are necklaces of this form seen that are composed of so much turquoise. Indeed, it is heavy and laden with beautiful, old turquoise cabochons. Turquoise, in the Himalayas, was believed to have talismanic, protective properties especially to guard against illness, and also to represent air and the sky.
It comprises seven strands of well-worn, well-matched solid turquoise cabochon beads as  well as flower-form silver beads and small silver barrel-form spacers. The turquoise beads have wear and patina suggestive of significant age and so it is likely that the necklace was composed of older heirloom bead components.
The bead strands are threaded through a central band or rib inlaid with coral and turquoise chips against a black-pitch background, and at each end terminate with a triangular finial embossed with pairs of addorsed birds resting on foliage and separated by a flower.
Aspects of the necklace suggest that it is made of local and imported parts – imported from other areas in the Himalaya foothills. The inlaid silver bar that forms the necklace's mid-section is inlaid with turquoise and coral chips and is reminiscent of turquoiseware that was produced in Kashmir towards the end of the 19th century. The embossed silver terminals are suggestive of Himachal Pradesh silverwork.
A necklace of similar form but with less turquoise is illustrated in Untracht (1997, p. 154) and another is in Borel (1994, p. 162) but that example comprises mostly coral beads.
This is an exceptional piece – genuinely old and comprising even older components.
References
Borel, F., The Splendour of Ethnic Jewelry: From the Colette and Jean-Pierre Ghysels Collection, Thames & Hudson, 1994.
Saraf, D.N., Arts and Crafts Jammu and Kashmir: Land, People, Culture, Abhinav Publications, 1987.
Untracht, O., Traditional Jewelry of India, Thames & Hudson, 1997.