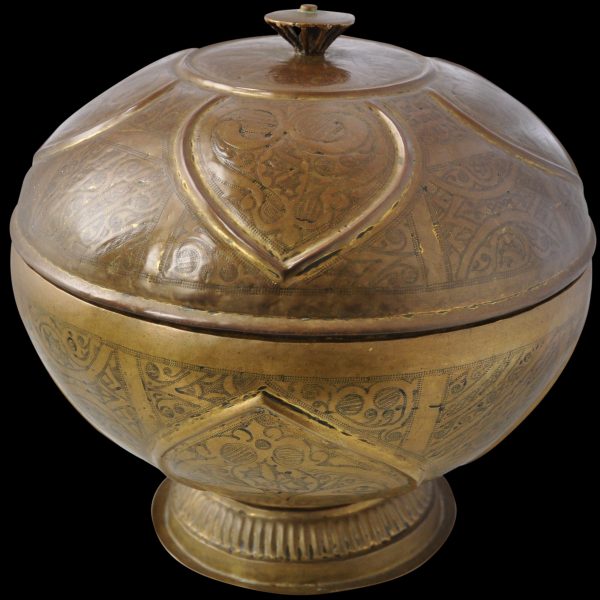 1226
Enquiry about object: 1226
Large Engraved Brass Bowl & Cover
(Islamic) Nupe People, Nigeria 19th century
height: 25cm, diameter: 26cm, weight: 1,116g
This unusual, large footed bowl and cover of beaten brass has been decorated with petal motifs in relief and engraved all over with leafy, spiral designs amid geometric borders, the engraved designs being highlighted with a lac infill. The cover is topped by a finial engraved with a petal motif and attached to the lid by a series of thin brass ribs. The bowl and cover appear to have traces of gilding. The two fit together tightly – most probably this item could have been used to store or serve food.
The bowl originates from the Islamic Nupe people. The Nupe, known as the Tapa by the neighbouring Yoruba people, primarily live in central and northern Nigeria. They also are the dominant group in Niger and a significant minority in Kwara State. Many Nupe were converted to Islam at the end of the eighteenth century. It is claimed that the Nupe have their origins in Egypt; their art forms and motifs do appear to relate to those of ancient Egypt.
Rarely is Nupe metalwork published; an example of a silver bowl with similar Islamic, swirling motifs is illustrated in Al-Jadir (1981, p. 81).
References
Al-Jadir, S., Arab and Islamic Silver, Stacey International, 1981.