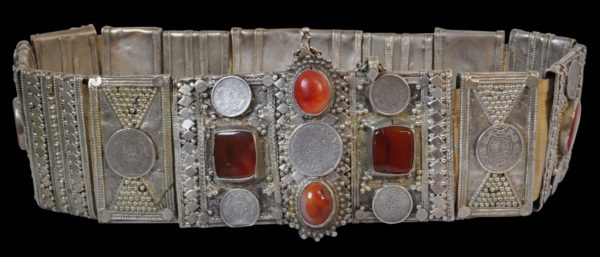 5997
Enquiry about object: 5997
Large & Impressive Silver Belt with Carnelians & Coins
Jewish-Yemeni silversmiths, Bedouin People, Saudi Arabia or Yemen early to mid-20th century
approx. circumference: 70cm, height: 7.4cm, weight: 1,181g
This large and impressive belt comprises 14 wide silver panels decorated with applied silver granulation work, silver plaques, seven large carnelian (agate) cabochons in silver box settings, and 15 applied silver coins. The coins are riyals from Saudi Arabia.
Thick, cream cotton calico has been threaded through each of the panels, which holds them together and giving the belt structure.
The belt opens at the front with a long, pull-out pin attached to the belt by means of a heavy silver chain.
According to the author and researcher Marjorie Ransom, the belt is likely to be the work of Yemeni Jewish silversmiths who lived in Habban, Shabwa Province in Yemen until the late 1940s.
This is an impressive belt with no losses or repairs.
References
Marjorie Ransom, Pers. comm.
Ransom, M., Silver Treasures from the Land of Sheba: Regional Yemeni Jewelry, AUC Press, 2014.