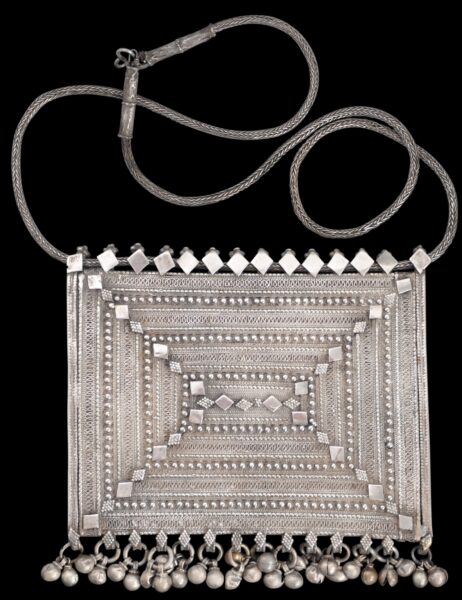 9269
Enquiry about object: 9269
Massive Bedouin Silver Amulet Box (Hirz) & Necklace
Bedouin people, Abha, 'Asir Region, Southern Saudi Arabia 19th-early 20th century
circumference of chain: 98.5cm, length of amulet (including bells): approximately 16cm, width of amulet: 16.9cm, weight: 528g
Provenance
private collection, UK. Collected in the 1970s from Saudi Arabia.
This amulet box (hirz) is unusually large and indeed is the largest of its type that we have seen.
Of rectangular form, one end would have opened and koranic versus would have been kept inside, giving the box and necklace protective, talismanic properties.
The front of the box is decorated with applied silver filigree and granulation work with the addition of applied silver lozenge plaques, all in neat, radiating borders.
The base of the box has 14 silver loops from which bell-like silver spheres dangle.
The top of the box is fitted with 14 loops with diamond-like plaques topped by silver granules and through which a fine 'rope' of silver wire chain is suspended. The chain is long and closes with an 'S'-shape catch.
The box and necklace is from a now elderly expatriate collector who was based in Saudi Arabia and who collected it in the 1970s from Abha, the local capital of the 'Asir Region in Southern Saudi Arabia, near the Yemen border.
A related but smaller box is illustrated in Hosli (2023, p, 32) and attributed to wither Bur'a, Yemen or Yaif or Jeddah, Saudi Arabia.
The box here is of high-grade silver, has plenty of wear, and the reverse has several charming old patch repairs where the silver must have worn through from contact with the body of the wearer.
It is a particularly special piece on account of its unusual size.
References
Colyer Ross, H., Bedouin Jewellery in Saudi Arabia, Stacey International, 1978.
Hosli, P., Shine & Mystery: The Splendour and Power of Oriental Jewellery, Knauf-Museum – Iphofen, 2023.
Ransom, M., Silver Treasures from the Land of Sheba: Regional Yemeni Jewelry, AUC Press, 2014.
Seiwert, W.D., Jewellery from the Orient: Treasures from the Bir Collection, Arnoldsche Art Publishers, 2009.