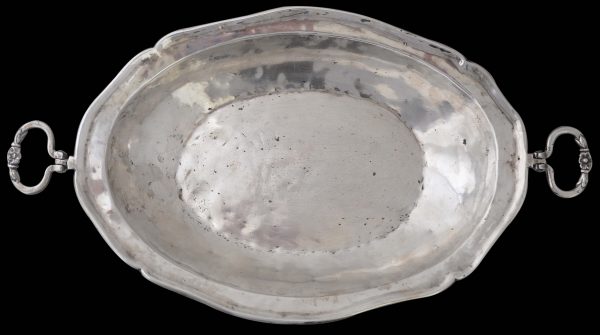 1671
Enquiry about object: 1671
Large, Colonial Spanish Twin-Handled Serving Dish
Colonial Spanish South America, probably Argentina 18th century
length: 46cm (with handles extended), width: 25.5cm, height: 5.5cm, weight: 854g
Provenance
European private collection
This superb, two-handled serving dish is of beaten, solid silver. The edges are scalloped. Hinged handles at either end have been cast with flower and leaf motifs.
Similar large serving dishes are illustrated in Davis Boylan (1974, p. 141), de Lavalle & Lang (1974, p. 161), and Luis Ribera & Schenone (1981, p. 229).
Such serving dishes were used across Spanish colonial South America, but the shape and construction of this example suggest an eighteenth century date of manufacture and most probably an Argentinian provenance.
This dish has a wonderful patina – the silver has the 'rawness' of early colonial South American silver. It is without cracks, repairs, splits or holes and the silver walls are thick and robust.
References
Davis Boylan, L., Spanish Colonial Silver, Museum of New Mexico Press, 1974.
de Lavalle, J.A. & W. Lang, Arte y Tesoros del Peru: Plateria Virreynal, Banco de Credito del Peru en la Cultura, 1974.
Luis Ribera, A., & H.H. Schenone, Plateria Sudamericana de los Siglos XVII-XX, Hirmer Verlag Muchen, 1981.
Taullard, A., Plateria Sudemericana, Ediciones Espeula de Plata, 2004.