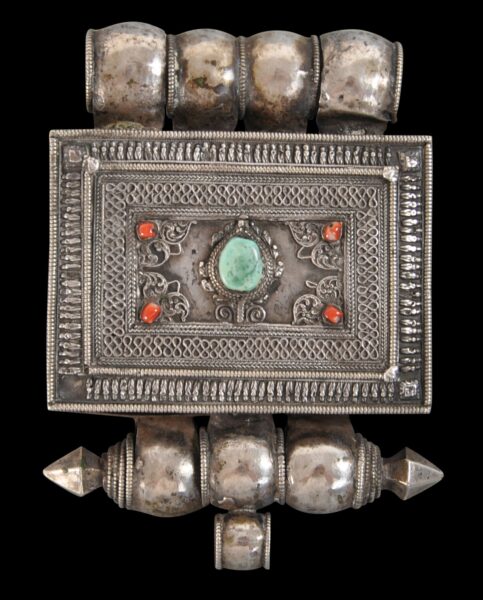 9378
Enquiry about object: 9378
Large Tibetan Silver Ga'u set with Turquoise & Coral (with Display Stand)
Western Tibet 19th century
length: 12.4cm, width: 9.2cm, depth: 2.5cm, weight: 158g
Provenance
private collection, London, UK
This large, rectangular ga'u box, typically worn by a woman, comprises a silver alloy front, sides, and backing plate.
The front is decorated with silver filigree and 'pearled' silver work and other applique work, within a border of applied petal elements. It is inset with a large, central turquoise cabochon and four smaller coral cabochons.
Such a ga'u served as a protective amulet box and would have been worn suspended from the neck. The top of the box has a hollow tube through which a chain would have been threaded.
The bottom of the box is decorated with a silver thunderbolt (dorje) form with pyramidal finials at each end, and a suspension loop beneath to allow more chains and other decorative elements to be suspended from the piece.
The item is in fine, well-worn condition. Minor losses to the silver applique attest to the significant age and authenticity of the box.
The ga'u comes with an attractive, non-obtrusive, custom-made display stand.
References
Clarke, J., Jewellery of Tibet and the Himalayas, V&A Publications, 2004.