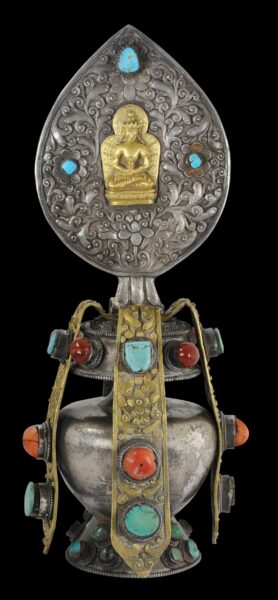 8711
Enquiry about object: 8711
Large Tibetan Silver Longevity Vase (Kalasha)
Tibet 19th century
height: 29.3cm, width: 12.2cm, weight: 1,071g
Provenance
private collection, London, UK.
This unusually large jewel-covered kalasha or longevity or immortality vase is of silver and gilded silver.
It is decorated with splendid chasing in high relief and large turquoise, coral, jade and carnelian cabochon stones in high box settings.
The vase itself has a globular body. The stopper has a large tear-shaped finial decorated on one side with superb chasing and plain on the other. This is inset with a central, applied gold or gilded plaque in the form of a seated Amitayus Buddha with a kalasha vase resting on his lap, and surrounded by three turquoise cabochons.
The top of the vase is adorned with four cascading leaf-shaped pendants, chased with leaf and flower motifs, and embellished with large turquoise and coral cabochons. These symbolise the overflowing of the nectar of immortality, as well as the Buddhas of the four directions.
The rim of the vase is inset with carnelian (agate) cabochons.
The foot is flared and set with turquoise and jade cabochons.
Longevity or long life vases have no spout and are the main vases used in rituals to visualise the mandala and its divine occupants, which are then dissolved into the waters of the vase. They were made for Tibetan longevity and prosperity rituals, the attached jewels being purposeful for the notion that jewels attract jewels, including the jewel of long life.
The vase is likely to be the work of a Newar craftsman most probably working for a Tibetan client, or working in Tibet itself. The Newar are the dominant ethnic group of the Kathmandu Valley. Metalwork and jewellery making was among their specialisations. Newar craftsmen plied their trade across the Himalayas and many items classed as Tibetan are in fact of Newari origin.
This vase is in a fine, stable condition. Some stones are likely to be old replacements. Overall, the vase is a very fine example of its type. It is large, decorative, and heavy for its size.
References
Brauen, M., et al., Mandala: Sacred Circle in Tibetan Buddhism, Arnoldsche/Rubin Museum of Art, 2009.
Clarke, J., Jewellery of Tibet and the Himalayas, V&A Publications, 2004.
Thurman, R., & D. Weldon, Sacred Symbols: The Ritual Art of Tibet, Sotheby's/Rossi & Rossi, 1999.
Beer, R., The Encyclopedia of Tibetan Symbols and Motifs, Serindia, 2004.