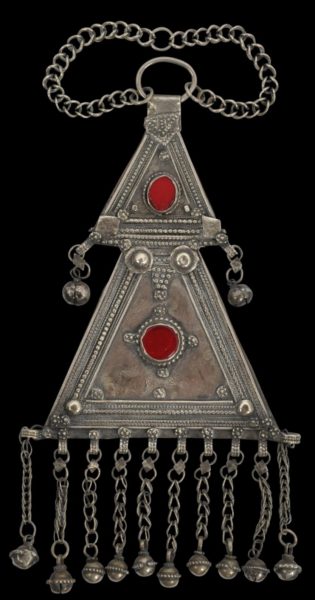 5007
Enquiry about object: 5007
Large Yemeni Silver Pendant (Barq or Lauh)
Bedouin People, Yemen early 20th century
entire length with chain : 37cm, length of main plate: 17cm, width: 13.5cm, weight: 200g
This bold, quite large, and dramatic pendant is from Yemen. It is a fine example of its type. It comprises a single silver plaque of double-triangle, tree-like form – the shape relates to pre-Islamic goddess worship and is a fertility symbol. It is inset with red glass cabochons and decorated with applied silver plaques, wire work and granulation work. Numerous bells are suspended from it, and it in turn is suspended from a thick silver chain.
The size suggest that it was worn as a pectoral ornament, but it might also have been worn as a headpiece.
Smaller, but related examples are  illustrated in Seiwert (2009, p. 136) and Al-Jadir (1981, p. 96).  Another is illustrated in Ransom (2104, p. 88).
References
Al-Jadir, S., Arab & Islamic Silver, Stacey International, 1981.
Ransom, M., Silver Treasures from the Land of Sheba: Regional Yemeni Jewelry, AUC Press, 2014.
Seiwert, W.D., Jewellery from the Orient: Treasures from the Bir Collection, Arnoldsche Art Publishers, 2009.