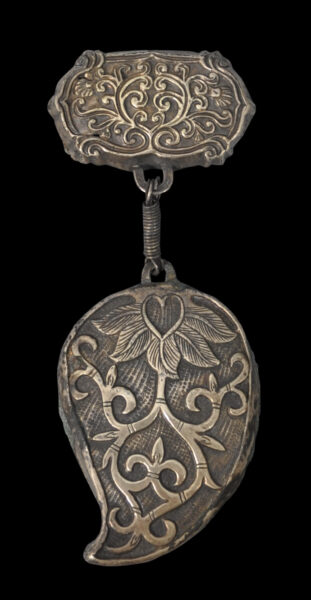 7052
Enquiry about object: 7052
Rare Liao Dynasty Gilded Silver Belt or Horse-Harness Fitting
North-eastern China & Inner Mongolia Liao Dynasty (10-12th century AD)
length: 12.6cm, width: 5cm, depth: 1.2cm, weight: 60g
Provenance
Roger Keverne, London, UK.
This rare pendant element, which dates to China's Liao Dynasty (c. 907–1125 AD), was intended to decorate either a belt or a horse-harness fitting. Either way, it has strong equestrian associations, because horsemen wore belts with decorative pendant elements (diexie) as well as having harnesses similarly decorated.
It is of repousse sheet silver with possible gilding over a substrate, and comprises a lobed rectangular box linked by woven wire attached via suspension loops to a lower pendent leaf-shaped plaque decorated in relief with an undulating vine of tendrils and leaves against a a punched ring-mat ground which is typical of Liao metalwork.
A similar horse fitting, unearthed in 1954 from a Liao King's tomb at Dayingzi, Chifeng County, in Ju Ud Meng, is illustrated in Chugogku Naimoko: Hoppo Kiba Minzoku Bunbutsu Ten, Tokyo, 1983, no.88. The example here is illustrated in Roger Keverne Ltd., Summer Exhibition, London, 2006, no.8.
The Liao Dynasty was also known as the Khitan Empire or the Khitan or Qidan State. It covered northern and north-eastern China, Mongolia and parts of the Russian Far East and North Korea. It was founded by Emperor Taizu of Liao at the time of the collapse of the Tang Dynasty.  The Khitan people had a strong culture of horsemanship so equestrian paraphernalia often is found at Khitan sites, including silver harness decorations.
The back has encrustation, and the silver has a patina consistent with being almost a thousand years old.
References
Liu, Y. (ed.), Liaoning Museum, Chang Zheng Publishers, 2008.
Roger Keverne Ltd., Summer Exhibition, London, 2006,
Shen, H.N. (ed.), Gilded Splendor: Treasures of China's Liao Empire (907-1125), 5 Continents, 2006.
White, J.M. & E.C. Bunker, Adornment for Eternity: Status and Rank in Chinese Ornament, Denver Art Museum/The Woods Publishing Company, 1994.