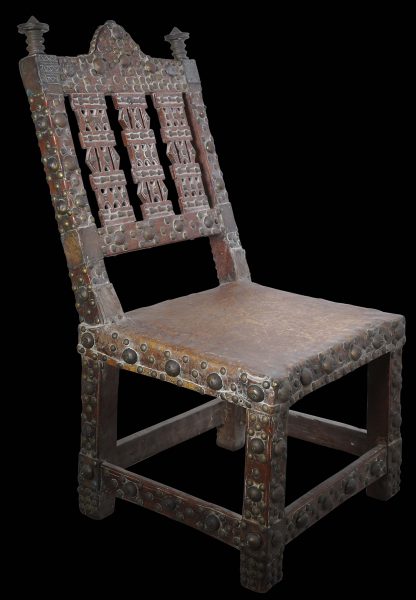 2938
Enquiry about object: 2938
Local Ashanti King's Asipim Chair
Ashanti (Asante) People, Ghana late 19th century
height: 72cm, depth: 44cm, width: 40cm
Provenance
private collection, UK
This is an outstanding example of an asipim chair, which would have been owned by an Ashanti chief. There are few losses and it has superb patina with obvious age. The super-structure comprises wood, with the original stretched hide seat, brass copious brass studs, and turned finials sheathed in brass atop the back-rest rails. The chair has been lightly dusted with talc, a practice sometimes adopted among the Ashanti as a decorative device (see for example an Ashanti stool in Blier, 2004, p. 87).
The back-rest inclines back in the usual asipim style. The back-rest includes three pierced struts of geometric design. The rest, the legs – indeed the chair all over – is decorated with domed brass studs.
Asipim chairs typically were seen in Ashanti royal courts leaning against walls when not in use. They are patterned after 17th or 18th century English chairs known as Farthingale chairs.
Ashanti chiefs used such chairs to sit on during meetings. Their subjects would sit before them on the ground. Chiefs would demonstrate their social status by the number of such chairs they would own.
The chair here is in fine condition. Relatively few brass studs are missing. The joints are all firm and the chair is very stable. The hide seat is in excellent condition without tears or repairs. This is a very fine, museum-quality example. See Cole & Ross (1977, p. 141) for an almost identical example.
References
Bocola, S. (ed.), Sieges Africains, Reunion des Musees Nationaux, 1994.
Blier, S. P., Art of the Senses: African Masterpieces from the Teel Collection, MFA Publications, 2004.
Cole, H. M. & D. H. Ross, The Arts of Ghana, Regents of the University of California, 1977.