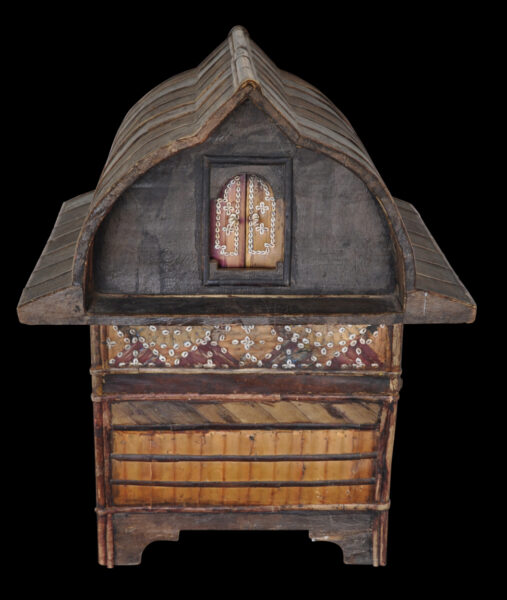 7063
Enquiry about object: 7063
Lombok House-Shaped Storage Box
Sasak People, Lombok, Nusa Tenggara, Eastern Indonesia. early 20th century
height: 67cm, width: 53.5cm, depth: 43.5cm, weight: 3,165g
This particularly large storage box is shaped as a traditional house used by the Sasak people of Lombok, an island adjacent to Bali, in eastern Indonesia.
The box comprises plaited and dyed lontar palm leaves applied over a split bamboo substrate and is decorated with split nasa mud whelk shells which are sewn on.
The roof lifts off to reveal the interior of the box, although the lid itself serves as a compartment reached through a pair of 'doors' under the front eaves.
This type of box has antecedents in European collections that date to the 17th century (see Dam-Mikkelsen & Lundbaek, 1980, p. 143-144), which are said to come from the Maluku peninsula (beyond Lombok), though this form does not seem known until the late 19th century. The apparent patina and size of this box and that it was found in the UK suggests it might date to the age of passenger steamship travel and so possibly to the 1920s, but most extant examples are later. One house-like box made of similar materials which was collected in 1893 is illustrated in Kuhnt-Saptodewo et al (2012, p. 119).
The Sasak people are Islamic and used these boxes to store household goods. They also exchanged such boxes as wedding gifts (Bennett et al., 2005, p. 284).
The example here is in find condition. It is relatively large but very light given the materials from which it is made.
References
Achjadi, J. (ed.), Seni Kriya: The Crafts of Indonesia, Times Editions, 1988.
Bennett, J., et al., Crescent Moon: Islamic Art & Civilisation in Southeast Asia, Art Gallery of South Australia, 2005.
Dam-Mikkelsen, B., & T. Lundbaek (eds.), Ethnographic Objects in the Royal Danish Kunstkammer 1650-1800, Nationalmuseet, 1980.
Kuhnt-Saptodewo, S., et al, Maluku: Sharing Cultural Memory, Museum fur Volker Kunde, 2012.
Richter, A., Arts and Crafts of Indonesia, Thames & Hudson, 1993.