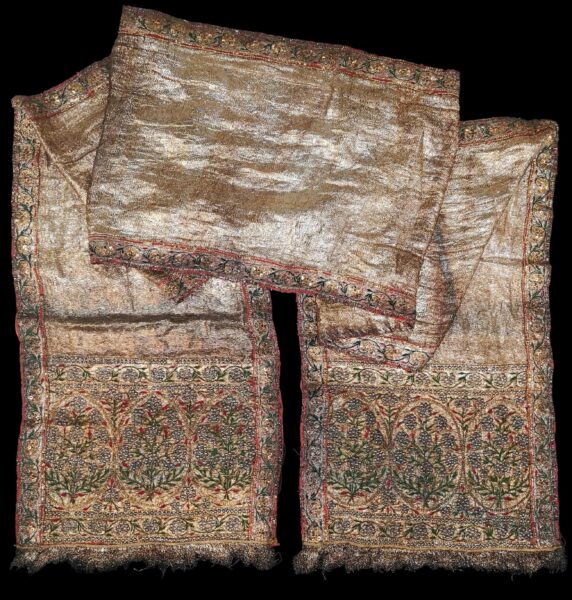 6491
Enquiry about object: 6491
Exceptional Lucknow Court Embroidered Zari & Silk Shawl or Sash
Lucknow, India circa 1800
length: 257cm, width: 35.5cm, weight: 250g
– scroll down to see further images –
The Court of Oudh (Lucknow) was well known for its extravagance and excess. Both men and women at court adorned themselves with costly dress and jewels. The textiles worn were lavishly embroidered with gold and silver thread.
This long, diaphanous, handwoven shawl or sash, probably for a prince at court, is one such example. It is of a quality that is now almost never encountered other than in museums.
It is of unspun, yellow silk warps and woven gilded and silver wefts that has been couched and embroidered, with wide end borders worked with large oval medallions containing red and green silk plant motifs, further embellished with miniature gold and silver sequins, and with fine, dense metallic fringes.
Lot 97 in Sotheby's London, 'Khmer, Thai, Indian and Himalayan Art' sale of November 14, 1988, comprises a collection of mostly Lucknow court attire including a shawl of similar dimensions and with almost identical brocade work as the example here. The collection was acquired Mordaunt Ricketts, Resident at Lucknow (1822-1830). Ricketts (b. 1786-1862) was the son of George Pointz Ricketts, Governor of Barbados (1798-1901). Rickets joined the East India Company in 1802 and served in Patna, Calcutta and Mirzapur before being made an agent of the Governor-General in 1818 and Resident of Lucknow in 1822.
The ruling family of Oudh (Lucknow) established themselves as independent hereditary rulers during the collapse of Mughal power in the early eighteenth century.
The strategic position of their capital and that of Oudh province prompted the British to use them as a buffer state between their own territories in the east, and the west. However the British used the inevitable intrigue and jockeying in the Oudh court to exert greater and greater influence. By the turn of the nineteenth century they managed to virtually exercise a veto right on the succession. The Nawabs devoted much of their time trying to project the outward signs of their sovereignty and regality, rather than exerting real power. Accordingly, Lucknow became an important centre for court arts.
Wajid 'Ali Shah was the last Nawab of Oudh. By the mid-nineteenth century, the Nawabs had lost their political and military usefulness to the British, and so the British under Dalhousie, Governor General of the East India Company, annexed the kingdom outright in 1856 on the grounds of internal misrule. It was in Oudh where the first great revolt of Indian Independence started in 1857.
The shawl or sash here has no holes or repairs. There are minor losses to the sequins and so on however, and light folding marks. Overall, it is in very fine condition.
It is an exceptional, museum-quality textile.
References
Markel, S. et al, India's Fabled City: The Art of Courtly Lucknow, LACMA/DelMonico Books, 2010.
Pathak, A.,  Indian Costumes, Roli Books, 2008.