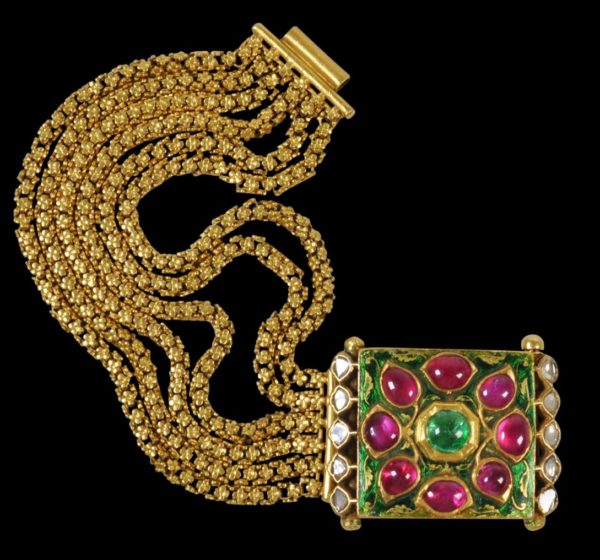 5943
Enquiry about object: 5943
Maharaja's Enamelled Heavy Gold Bracelet set with Rubies, Diamonds & an Emerald
India, probably Hyderabad circa 1750 or earlier
overall length: 17.5cm, dimensions of enamelled plaque: 4cm x 3.2cm, total weight: 137g, diameter as worn: approx. 6cm
Sold
Provenance
private collection, UK
Gold Indian jewellery that dates obviously to the 18th century or earlier is comparatively rare. Most dates to the 19th century.
This heavy gold bracelet would have been worn by a maharaja or equivalent and dates to the 18th century. (See the last three images below which show the young Maharaja of Kota, circa 1880s, wearing bracelets similar to our example.)
It is remarkable for its unexpectedly heavy weight; unusual and cleverly constructed multiple-strand gold band; and the particularly high quality of the precious gems used.
The unusual bracelet band comprises six heavy chains of interlocking blossom-like segments.
The gold is around 22 carats.
The rectangular bezel is set with gem-quality precious stones. There are eight large almost flawless Burmese rubies, each weighing an estimated 2-3 carats; a large, central, clear and essentially flawless Colombian emerald weighing an estimated 3-4 carats, and ten diamonds, all clear and weighing an estimated 0.2 carats each. The stones are set against a background of green enamel that is decorated with leafy arabesques.
The reverse and sides of the bezel also are enamelled (with some wear-related losses.)
The settings and enamel work are suggestive of Lucknow influence, however the most likely place of manufacture is the princely southern city of Hyderabad that was ruled over by the Nizams of Hyderabad.
The bracelet is stable and very wearable. It closes with a gold, pull-out pin and this is robust, strong and closes well.
References
Aitken, M.E., When Gold Blossoms: Indian Jewelry from the Susan L. Beningson Collection, Asia Society & Philip Wilson Publishers, 2004.
Bala Krishnan, U.R., Jewels of the Nizams, Department of Culture, Government of India, 2001.