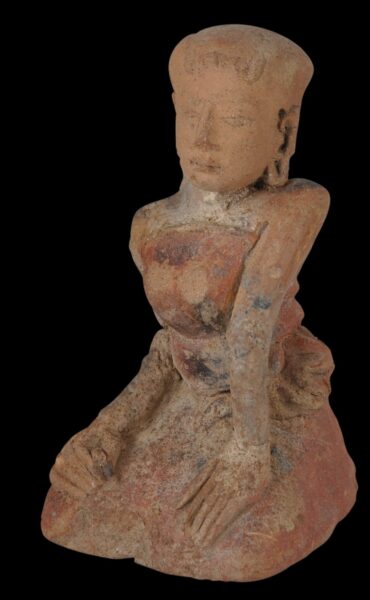 7294
Enquiry about object: 7294
Majapahit Terracotta Court Dancer Figure
Majapahit kingdom, East Java 14th-15th century
height: 12.2cm, width: 6.8cm, depth: 7.6cm, weight: 309g
Provenance
Estate Collection of Tom White MBE, a former UK diplomat who served in Southeast Asia in the 1960s & 1970s.
This small terracotta figure is of a female figure seated on her knees. She has long thick hair that falls down her back and past her waist. She wears a sarong and a large waist band tied on her left side. She has elongated earlobes to support the massive ear studs (subang) that were popular at the time.
She looks like a seated attendant – she sits on her knees with both hands on her knees but with her left arm twisted outwards – this is more in the position of a court dancer, and indeed many courtly dance positions on Java did – and still do – involve being seated. Genscher & Kusumaatmadja (1980, p. 119) illustrate a Majapahit terracotta fragment that shows a female in almost the identical position.)
Large numbers of terracotta figures were made during the time of the Majapahit kingdom on Java. They were used to decorate public buildings and gardens. Some were religious but many were simply decorative.
The Majapahit kingdom was a Hindu-Buddhist kingdom centred on East Java between the 13th and 16th centuries. A feature of Majapahit civil works was the use of clay and terracotta for both building bricks and ornamentation.
At one time, the figure was broken in two but the two halves have been reattached. There are no major losses. The condition is relatively good given that it is around 600 years old.
References
Damais, S.J.H., Majapahit Terracotta: The Soedarmadji Jean Henry Damais Collection, Babbooks, 2012.
Genscher, H.D., & M. Kusumaatmadja, Java und Bali, Verlag Philipp von Zabern, 1980.
Yahya, A., et al, Archipel: Indonesia – Kingdoms of the Sea, Snoeck, 2017.