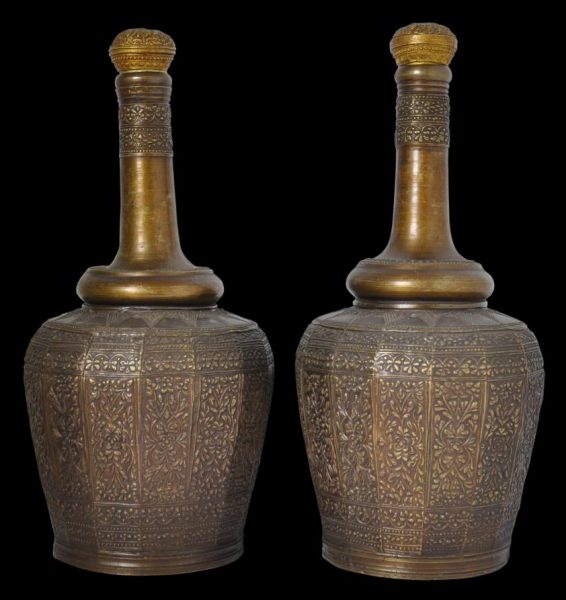 321
Enquiry about object: 321
Pair of Cast Brass Flasks made for the Malay Market
Minangkabau People, Sumatra, Indonesia late 19th century
height: 31.5 cm
Provenance
Dutch antique market
These beautiful jars have long, narrow necks and have been cast with floral motifs within longitudinal bands. The shoulders of the jars are embellished with triangular bamboo shoot (pucuk rebung) motifs, these being identifying characteristics of Minangkabau and Malay brassware but which are also commonly used in Sumatran and Malay textile design and woodwork.
Both retain their original lids that have been cast with floral motifs and then gilded. Such jars were used for storing drinking water.
Overall, these jars or bottles are exceptional examples of Minangkabau brass casting work. It is rare to find extant examples that still retain their lids.
A near-identical example is in the National Museum of Singapore Collection (catalogue no.B0194) and is illustrated in Singh (1985, p. 27). Another is illustrated in Lau & Platzdasch (2010, p. 128.)
See the final image for a related pair displayed in the Gemeentemuseum in The Hague, the Netherlands, as part of the 'Asian Art and Dutch Taste' exhibition (2014).
Click here for an example in the British Museum.
The example here are in fine condition. They are sculptural and with obvious age.
References
Lau, A.T. & B. Platzdasch (eds.),Malay Heritage of Singapore, Suntree Media/Malay Heritage Foundation Singapore, 2010.
Singh, B.,Malay Brassware, National Museum of Singapore, 1985.