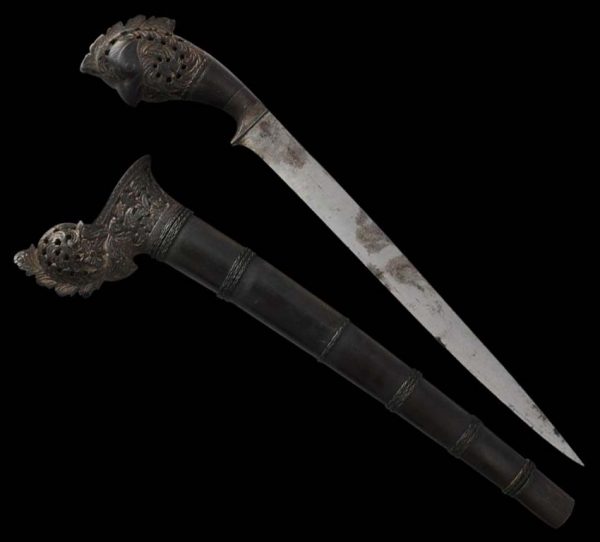 1538
Enquiry about object: 1538
Malay Dagger (Tumbok Lada) with Parrot-shaped Horn Hilt
Malay, Malaysia early 20th century
length: 34cm, weight: 199g
Hilts that are clearly zoomorphic – in this case the head of a parrot – are not unusual among Malay weapons but they are unusual. This dagger comprising a slightly curved, single-edged steel blade is entirely encased in horn. The hilt has been carved in the form of a parrot or cockatoo – not overtly but with enough leafy scrolling to slightly mask the head as a concession to Koranic prohibitions on idolatrous representations of animal forms.
The hand-guard features complementary leafy scrolling. The scabbard is plain and comprises two polished horn halves held together by plaited bands that also appear to be of organic material, perhaps horn also. Tumbok ladas were intended as stabbing weapons. In some parts of the Malay world, the tumbok lada was thought ot be favoured by women because its small size allows it to be more easily concealed in one's dress.
References
Gardner, G.B., Keris and other Malay Weapons, Orchid Press, 2009 (reprint of 1936 original).