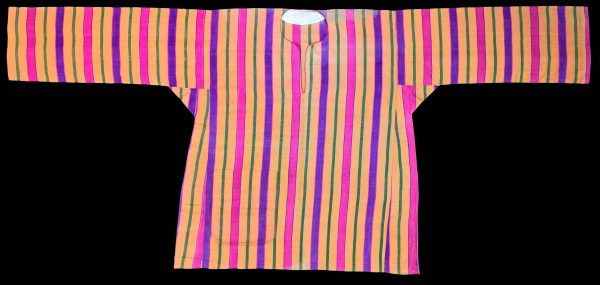 5348
Enquiry about object: 5348
Malay Jacket (Baju Melayu) of Striped Kain Tenum
Malay People, Malay Peninsula, probably Johor, Malaysia circa 1900
width from arm to arm: 155cm, length: 71cm
Reserved
Provenance
collected by Alwyn Sidney Haynes (1878-1963), and thence by descent. Haynes was a colonial administrator in Malaya and the Straits Settlements between 1901 and 1934. He held many posts including Acting British Resident, Pahang (1924); British Resident, Perak (1925); British Advisor, Kedah (1925); British Advisor, Kelantan (1930); and Acting Colonial Administrator, Straits Settlements (1933), after which he retired and returned to England, and lived near Stratford-upon-Avon, and then in Leamington Spa. Haynes loaned some of the items he collected in Malaya to the Pitt Rivers Museum in Oxford in 1939. He was awarded an Order of the British Empire (OBE) in 1950.
This striking jacket or shirt (baju Melayu) made of striped, locally produced cotton kain tenun (literally, 'woven cloth') was acquired in the 1930s or earlier by a British colonial official. It was brought back to England and has been in storage since. As a consequence, it is in very good condition.  It is of predominantly of blue, green, orange and pink stripes.
Made to be worn by a Malay man, it has a single large pocket in the front.
Kain tenun was handwoven often by small family enterprises in the traditional way using the Malay or Siamese floor weaving loom known as a kek Siam.  It was produced on the Malay peninsula, mostly in Kelantan, Terengganu and Pahang states. The resulting textile was used for sarongs but also for kain samping – the shorty sarongs Malay men traditionally wore over their trousers. Kain tenun was also tailored into traditional shirts for women (known as baju kurung and baju kebaya) and shirts for men (baju Melayu).  The finest producers of kain tenun received commissions to supply the Malay peninsula's many royal courts for most of the sultans, their families, and officials all wore the textile.
As mentioned, it is in very good condition, particularly when compared with most extant examples that have age.  There is a light water stain to one shoulder only. There are no insect holes or repairs. There is some wear to the back along the fold. The colours are as bright as the day the textile was woven. Probably, it was never worn.
References
Ismail, M.S.Z., et al., Muzium Tekstil Negara/National Textile Museum, Department of Museums Malaysia, 2012.
Uda, Y.M.R.D.P. Fuziah Raja Tun et al., Tradition & Continuity: Woven and Decorated Textiles of the Malay Peninsula, Islamic Arts Museum Malaysia, 2013.