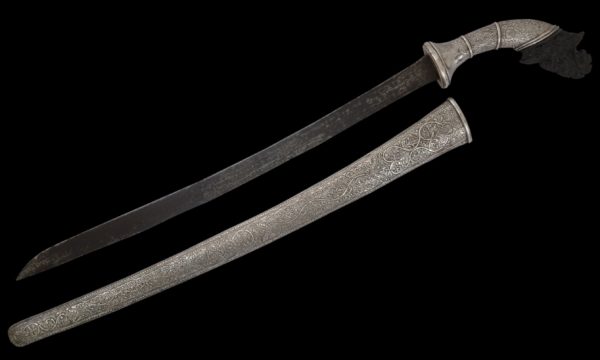 6240
Enquiry about object: 6240
Fine, Malay Sword (Klewang) with Horn Hilt & Silver Mounts
Malay Peninsula or Sumatra, Indonesia 19th century
length: 72.5cm, weight: 854g
Provenance
private collection, England.
This long sword of klewang or pedang has a chased scabbard of solid silver sheet over a wood base; a curved, single-edged blade; a hilt grip clad in finely chased and engraved silver; and a hilt pommel of beautifully carved and pierced horn.
The blade is of damascened or watered iron.
The silverwork on this sword incorporates floral and foliate scrollwork and is an excellent example of the silverwork of the Malays of coastal Sumatra and possibly the Malay Peninsula.
Such klewangs seem to have been used on the Malay peninsula, in Sumatra and in what is now southern Thailand (but was the Islamic sultanate of Patani). It is likely that they were made in several locations and then also traded elsewhere so that the precise location of manufacture is difficult to pinpoint. This example has decorative motifs worked into the silver cladding which are reminiscent of wood carving seen in Lampung, South Sumatra.
A related example is illustrated in Sumner & Osborne (2001, p. 68).
The example here is in excellent condition. The blade fits perfectly into the scabbard. The silverwork is exceptional.
References
Hales, R., Islamic and Oriental Arms and Armour: A Lifetime's Passion, Robert Hale CI Ltd, 2013.
Sumner, C. & M. Osborne, Arts of Southeast Asia: From the Powerhouse Museum Collection, Powerhouse Publishing, 2001.