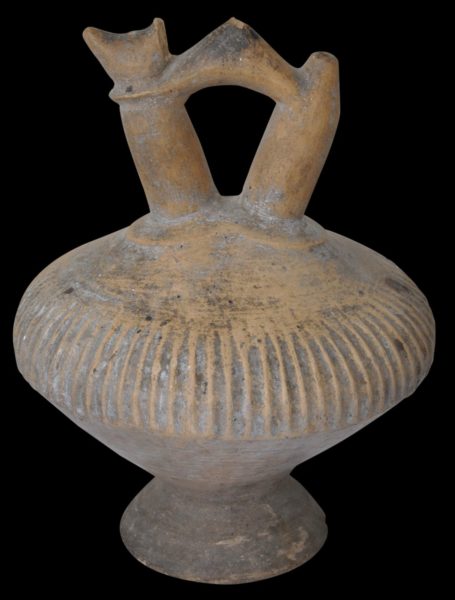 6321
Enquiry about object: 6321
Sumatran-Malay Terracotta Double-Spouted Drinking Water Vessel (Kendi)
Lampung, South Sumatra, Indonesia circa 1900
height: 27.3cm, diameter: 22cm, weight: 1,310g
Provenance
private collection, southern England.
This striking drinking water vessel or kendi was produced in south Sumatra, most probably in Lampung.  It is made of unglazed terracotta and was used locally and exported to elsewhere in Southeast Asia, especially the Malay world, and most particularly to the Malay Peninsula. It was used to hold drinking water – the unglazed nature of the vessel allowed it to be semi-porous so that the water would seep through the sides and evaporate, thereby cooling the contents. (Glazed pottery was seldom produced in Southeast Asia because of the ready availability of such wares that were imported from southern China throughout the centuries.)
It stands on a flared foot, and has a flattened, round cushion-shaped body that is ribbed. The form of the ribbed body is in the shape of a gourd or a type of sour fruit known to the Malays as asam gelugur (Garcinia atroviridis), a rain-forest tree fruit native to peninsular Malaysia.
Two spouts rise from the top of the base and they are linked by a triangular bridge that serves as a handle.
The most interesting aspect is that there is no clear aperture into which liquid can be poured to fill the vessel. Instead, there is a small hole in one spout from which water can be emitted and another through which water can enter, but only if the vessel was held under water and allowed to fill that way. It seems likely therefore, that the vessel was meant to be taken to a stream or river where it was held under water until it filled. The water was then allowed to settle for a while to allow any sediment to drop to the bottom.
An almost identical example (with similar minor losses) is illustrated in Achjadi (1988, p. 38), with the comment that the shape has changed little 'over the past ten centuries.' Another is illustrated in Khoo (1991, p. 130).
Jasper & Pirngadie (1930, p. 95-6) illustrate three variants in brass all of which they attribute to the East Java city of Surabaya. These brass examples, like the terracotta example here are all attributable to the early 20th century, but the form is much earlier. A brass example which we had and is now in the Islamic Art Museum, Malaysia, can be seen in the Museum, in the last image below.
This type of pottery is relatively friable – it is fired at low temperatures. Given this and its age, the condition is relatively good. There are no cracks or repairs, the handle section does have minor chips to the extremities however. The colour has developed a darkened hue and patina consistent with its age.
References
Achjadi, J. (ed.), Seni Kriya: The Crafts of Indonesia, Times Editions, 1988.
Jasper, J.E. & Pirngadie, De Inlandsche Kunstnijverheid in Nederlandsch Indie V: de Bewerking van Niet-Edele Metalen, 1930 (reprinted 2009 by Sidestone Press, Leiden).
Khoo, J.E., Kendi: Pouring Vessels in the University of Malaysia Collection, Oxford University Press, 1991.
Lau, A.T. & B. Platzdasch (eds.), Malay Heritage of Singapore, Suntree Media/Malay Heritage Foundation Singapore, 2010.
Sheppard, M., Taman Indera: Malay Decorative Arts and Pastimes, Oxford University Press, 1972.