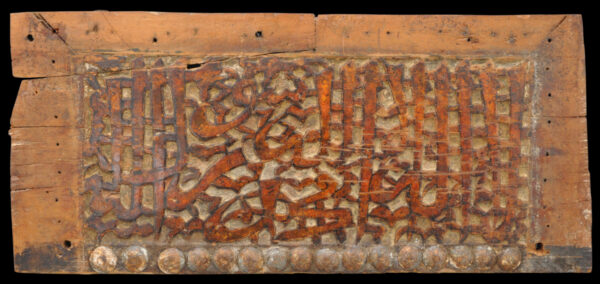 7057
Enquiry about object: 7057
Late Mamluk Calligraphic Carved Wooden Panel
Egypt or Yemen early 16th century
width: 51.9cm, height: 23.4cm, depth: 2.8cm, weight: 1,821g
Provenance
formerly in the Oliver Hoare collection, London.
This wooden panel is is carved in relief in elegant thuluth script with the Shahada declaration: 'There is no god but Allah, and Muhammad is his Prophet'. (The Shahada is the most common statement of faith for Muslims. It is whispered by the father into the ear of a newborn child, and into the ear of a dying person. Each of the five canonical daily prayers includes a recitation of the Shahada, and reciting it also is the only formal step for conversion to Islam.)
The panel most likely dates to the late Mamluk Dynasty in Egypt, or possibly Yemen. (The Mamluks overran Yemen at around this time.)
The calligraphy has traces of gilding and originally, the panel was painted with the letters highlighted in gold.
Most probably the panel is from a door, or a lintel, or perhaps a large item of furniture. There is an old repair to the top left part of the panel.
The lower register of the panel is lined with metal domed studs. These and the front of the panel show significant age.
References
Folsach, K., von, Art from the World of Islam: in the David Collection, 2001.
Seif El Rashidi, pers.comms., London.