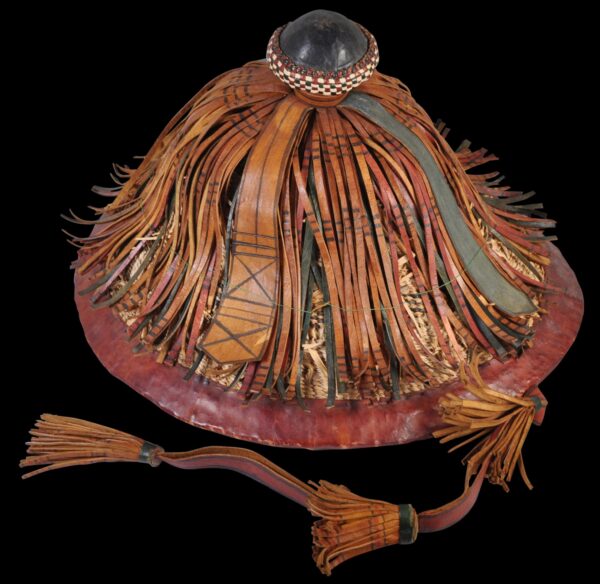 9227
Enquiry about object: 9227
Mandingo Leather-Clad Man's Hat
Mandingo or Mandinka people, West Africa, including Sierra Leone or Liberia 20th century
height: approximately 22cm, diameter: approximately 32cm, weight: 421g
This domed hat with a woven reed substrate, polished leather edging and leather flaps covering the dome is from the Mandingo people of West Africa. The hat is topped with a knob with a black leather covering and a woven leather and reed strip running around the side. There is a long leather chin strap as well.
The leatherwork relates to the excellent leatherwork used to decorate their swords. See an example here.
Arguably, the hat is in the form of a pith helmet suggestive of colonial influence. The hat would not offer much protection in combat but would have matched the swords that Mandingo warriors used and so might have been intended for a warrior.
A domed hat with an almost identical tasselled chin strap is in the Newark Museum and is illustrated in Clarke (2017, p. 163). That example is attributed to the Fulani people of Liberia, an adjacent group to the Mandingo.
The Mandingo people of Sierra Leone and West Africa more broadly (also known as the Mandinka or Malinke) and a largely Sunni Muslim group who migrated to Sierra Leone from the 1870s from Guinea. Traditionally, they are traders and farmers. Many went to Sierra Leone to follow the conservative, hardline Muslim Mandingo cleric and military strategist, Samore Ture who founded the local Wassoulou 'Empire'. Under Ture's rule, the Mandingo enslaved many tribespeople from neighbouring groups as well as capturing and occupying even more lands in Sierra Leone. The militaristic activities of the Mandingo ensured a culture of weapons making.
The hat is is fine condition but with signs of age.
References
Clarke, C. (ed.), Arts of Global Africa: The Newark Museum Collection, Newark Museum, 2017.
Tirri, A.C., Islamic and Native Weapons of Colonial Africa 1800-1960, Indigo Publishing, 2007.