This small hei-tiki is in the usual form: the head tilts to one side, and each of the three-fingered hands rests on the thighs. It has been carved from nephrite-like greenstone.
It most probably dates to around the beginning of the 20th century.
There is wear to part of the head above the suspension hole suggesting reasonable age and use.
Hei-tiki pendants ('tiki' refers to the image and 'hei' means to suspend from the neck) carved in local greenstone (nephrite, known by the Maoris as pounamu) are among the most iconic of Maori arts.
Hei-tiki pendants were worn by the Maoris for largely decorative reasons. Their origins might lay in ancestor worship or fertility rites but by the time of white settlement they were already largely decorative than connected to ritual.
The example here is in fine condition and is wearable. The hei–tiki overall has light wear consistent with an early 20th century dating and maybe earlier.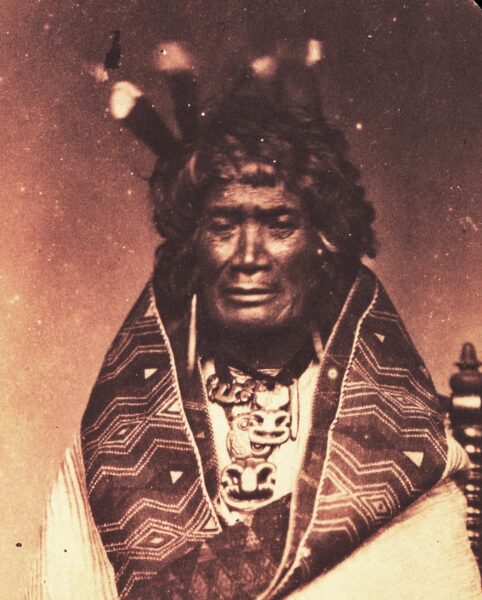 This photograph dates to around 1860 and shows the wearer with several hei-tikis worn from the neck.
References
Austin, D., La Pierre Sacree des Maori, Musee du Quai Branly Jacques Chirac, 2017.
Dodd, E., The Ring of Fire: Polynesian Art, Dodd Mead & Co, 1967.
Kaeppler, A. L., Polynesia: The Mark and Carolyn Blackburn Collection of Polynesian Art, University of Hawaii Press, 2010.
Linton, R. & P. S. Wingert, Arts of the South Seas, The Museum of Modern Art, 1972.
Meyer, A. J. P., Oceanic Art, Könemann, 1995.
Starzecka, D. C., R. Neich & M. Pendergrast, The Maori Collections of the British Museum, British Museum Press, 2010.