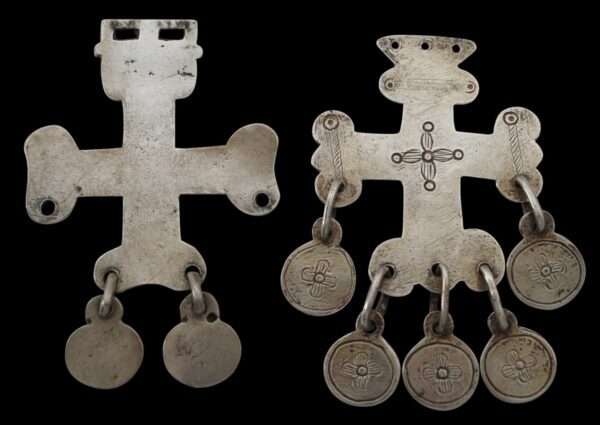 7308
Enquiry about object: 7308
Mapuche Silver Sequil de Tubos Pendants
Mapuche People, Chile 19th century
length: 9.5cm, width: 5.8cm, combined weight: 89g
Provenance
private collection, UK.
These two silver cruciform-shaped pendants were made to hang from a chest ornament known as a sequil de tubos or sequil de placas. Today, they can readily be worn as pendants from chains around the neck.
Both have pendant coin-like disks suspended from them. One is plain and the other is engraved on both sides.
The Mapuche are the indigenous inhabitants of present-day south-central Chile and south-western Argentina, including parts of Patagonia. The term refers to a range of ethnic groups but with common cultural and linguistic traditions. Mapuche silver tends to date from the second half of the 18th century when hostilities between the colonial Spanish and the Mapuche declined and trade increased. This gave the Mapuche greater access to colonial Spanish silver coins which became a source for the silver jewellery that Mapuche silversmiths subsequently made. Most important Mapuche chiefs had at least one silversmith in their retinue by the 19th century. Silver jewellery became something of an obsession among wealthier Mapuche families and it was handed down from mother to daughter.
Both pendants here are in a fine, wearable condition. Both have a good patina and obvious age.
References
Bedford, J., 'Mapuche silver', Journal of Museum Ethnography, May, 1996.
Taullard, A., Plateria Sudemericana, Ediciones Espeula de Plata, 2004.