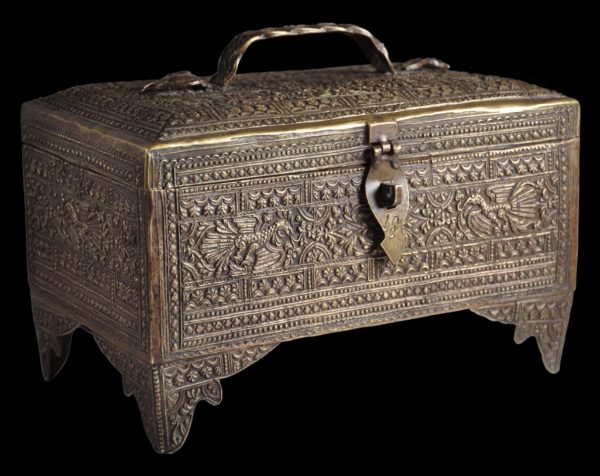 6137
Enquiry about object: 6137
Sumatran Minangkabau Cast Brass Money Box
Minangkabau people, Sumatra, Indonesia 19th century
length: 21.4cm, height: 15.5cm, depth: 13cm, weight: 2089g
This rectangular cashbox is elaborately cast, using the lost wax process, on all sides with floral and bird motifs. The hinged lid is adorned with a plaited handle with cast humming birds or kingfishers applied to either side.
The box sits on four feet which give the box an overall architectural quality. A hinge and flange to the front allow the box to be padlocked shut.
The box is from the Minangkabau people of West Sumatra. This group developed a commercial and trade specialisation in the production of utilitarian brassware items.
It is likely that such boxes were meant as possessions for women: the Minangkabau were (and still are) matrilineal: family wealth and inheritance passes down through the female line – from mother to daughter bypassing sons. This is unusual for a group that is otherwise avowedly Muslim. Minang women in the household are keepers of the family's wealth and savings. Market places were controlled and run by women as well. Even today, Minangkabau families desire daughters rather than sons to preserve the family line.
It is likely that these boxes were exported to other parts of Southeast Asia including to the Malay Peninsula where there is a Malay majority population and a Minangkabau minority that is centred on Negri Sembilan state. The hereditary rulers of that state also have Minangkabau ancestry.
A slightly smaller, related example in the National Museum of Singapore collection is illustrated in Singh (1985, p. 29). Another similar example is in the Tropenmuseum in The Netherlands.
The example here is in excellent condition.
References
Singh, B., Malay Brassware, National Museum of Singapore, 1985.