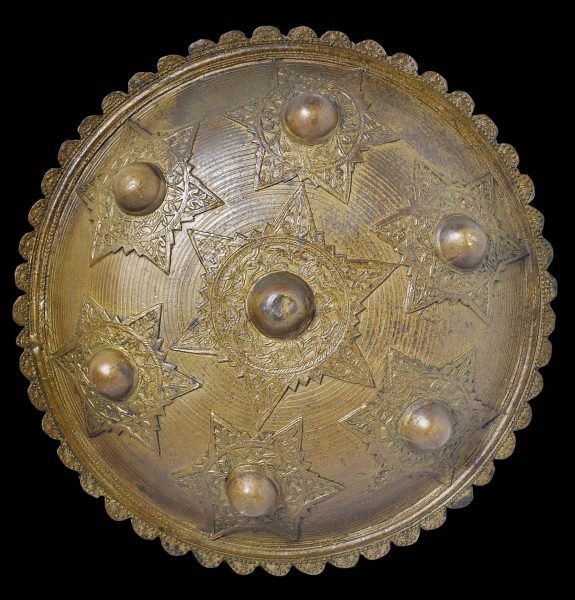 2598
Enquiry about object: 2598
Sumatran Minangkabau-Acehnese Cast Brass Shield or Buckler (Peurise)
Minangkabau People for the Aceh Market, Sumatra, Indonesia 19th century
diameter: 32cm
Shields or bucklers such as this example were cast by the matrilineal Minangkabau people of west Sumatra for export to the Aceh sultanate in northern Sumatra. The Acehnese used these bucklers for a type of sword dance that no longer is performed.
This buckler has been cast with seven plain bosses surrounded by triangular bamboo shoot motifs (pucuk rebung) arranged as Islamic-inspired, six-pointed stars. The edge is scalloped, and the reverse has been cast with four lugs through which an arm strap could be threaded.
The buckler has a fine chocolate-brown patina. The central boss is slightly dented in (which could be remedied) but otherwise is in excellent condition
Similar Malay bucklers are illustrated in Singh (1985, p. 41).
References
Singh, B., Malay Brassware: A Guide to the Collections, National Museum of Singapore, 1985.