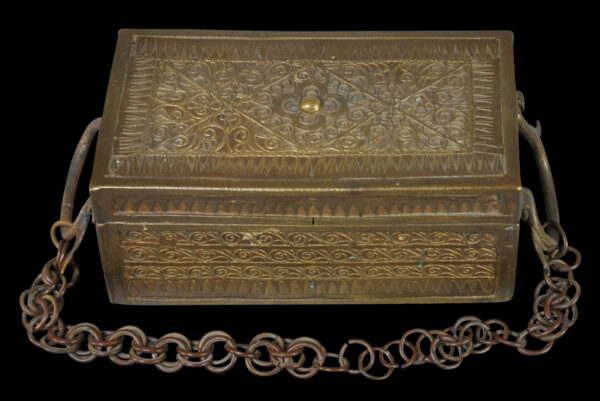 6730
Enquiry about object: 6730
Mindanao Brass Betel Box
Mindanao, The Philippines circa 1900
width: 15.3cm, height: 6.9cm, depth: 8.3cm, weight: 1,135g
This fine cast brass box was for carrying the elements of a betel quid – betel being the mild social narcotic used from South to Southeast Asia. It is from the Islamic south of the Philippines – from Mindanao.
The box itself was intended to portable – it is fitted with two handles on either side and a brass chain for carrying links both these together.
The lid is hinged and inside, there is a shallow tray with four hinged lids. The tray lifts out from the box. The tray was used to hold powdered white lime (of which remnants remain) and slices of  nut. The space below the tray was to hold the betel leaves used to wrap the quid that was then popped into the mouth for chewing.
The box is decorated on all sides with geometric, lace-like spiral work in relief.
A box with similar decoration and also fitted with a carrying chain is in the Museum of Cultural History, UCLA and illustrated in Casal (1981, p. 157).
The example here is in fine condition.
References
Casal, G. et al, The People and Art of the Philippines, UCLA Museum of Cultural History, 1981.