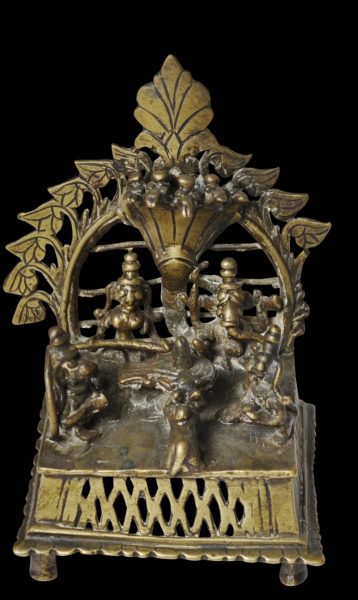 4249
Enquiry about object: 4249
Miniature Shaivaite Shrine
Maharashtra, India 18th-19th century
height: 9.6cm, width: 6.5cm, depth: 6.5cm
Provenance
private collection, London.
– scroll down to see further images –
The compact, cast brass shrine, mounted on a pedestal represents the theme of Shiva-Linga worship. Various members of the Shaivite 'family' are present around a central shiva-lingam. They are Ganesh, Hanuman, Krishna, Anapurna and Nandi. The scene is complete with an aureole with a leafy border, and against which rears a multi-headed cobra which provides a protective canopy to the shiva-lingam.
The shrine has a flared, square base with pierced sides, a serrated skirted edge, and four, short feet.
Such shrines come from the small towns and villages of Maharashtra (the state that takes in Mumbai/Bombay) indicating that these were popular objects of worship in domestic settings. It was customary that these domestic shrines were tended regularly with daily worship and offerings. But rarely are such shrines encountered now.
The aureole is missing several of its lower leaves on one side bit otherwise is complete. Despite, the naive presentation, this small bronze is remarkable for its detail and its harmony of composition.
References
Aryan, K.C., Folk Bronzes: Of North Western India, Rekha Prakashan, 1973.
Dursum, B., et al, Change and Continuity: Folk and Tribal Art of India, Lowe Art Museum, University of Miami, 2004.