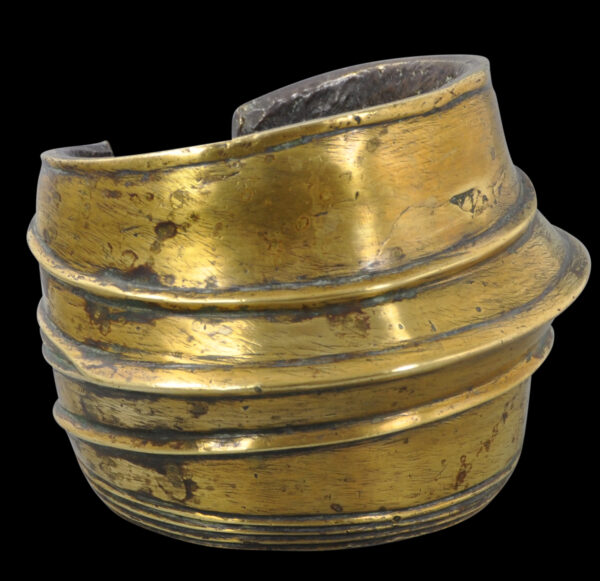 9079
Enquiry about object: 9079
Mongo Currency Anklet
Mongo People, central Congo 19th-early 20th century
width: approximately 14.2cm, height: 11.7cm, weight: 4,038g
This heavy brass or bronze anklet was intended for a woman to wear. They were worn over cloth or something similar to better distribute the weight and to stop it from cutting into the skin. Such  an anklet was a demonstration of the woman's husband's wealth. Not only could he afford such an item but he could afford to have a wife rendered largely immobile by wearing it.
Apart from being worn, such anklets functioned as a form of currency and store of wealth.
Such anklets were made by Mongo metalsmiths using furnaces that were dug into the ground to melt the metal. This was then poured into clay moulds and whilst still hot and pliable, the moulded metal would be further shaped by bending over a tree trunk.
The example here has a very pleasing form being curved and yet angular and with protruding fine ribs. It has a lovely, aged colour and much sculptural appeal.
References
Bartolomucci, A., African Currency, Editore Africa Art Gallery, 2012.