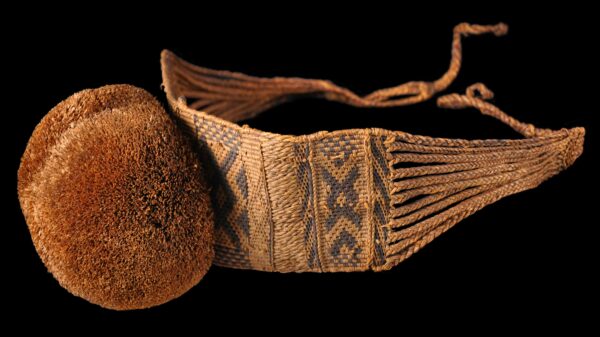 6524
Enquiry about object: 6524
Mongo Woman's Woven Buttock Shield (Bakonga)
Mongo People, Congo early 20th century
length: approximately 88cm, width: 8.3cm, weight: 157g
Provenance
private collection, London, UK.
This unusual item is known as a bakonga was worn by Mongo women from the Congo around their hips just over their buttocks.
It is of plant fibre and natural dyes.
It has a large, decorative, tight, densely-packed and bristly, central pompom attached to a finely woven band that incorporates panels of geometric motifs. Each end has multiple plaited ties that are pulled together at the ends.
A similar example is illustrated in Borel (1994, p. 70). Another is illustrated in Grootaers & Eisenburger (2002, p. 550).
Two comprised lot 59 in Christie's Paris sale 'Arts d'Afrique de la Collection de Madame Nelly Van den Abbeele', June 12, 2003. They were described (erroneously) as being from the Mangbetu people.
The bakonga here is in fine condition and has good signs of age with a glossy patina to the braided rafia straps. These ornaments are quite rare and are rarely illustrated.
References
Borel, F., The Splendour of Ethnic Jewelry: From the Colette and Jean-Pierre Ghysels Collection, Thames & Hudson, 1994.
Grootaers, J. L. & I. Eisenburger, Forms of Wonderment: The History and Collections of the Afrika Museum, Berg en Dal, 2002.