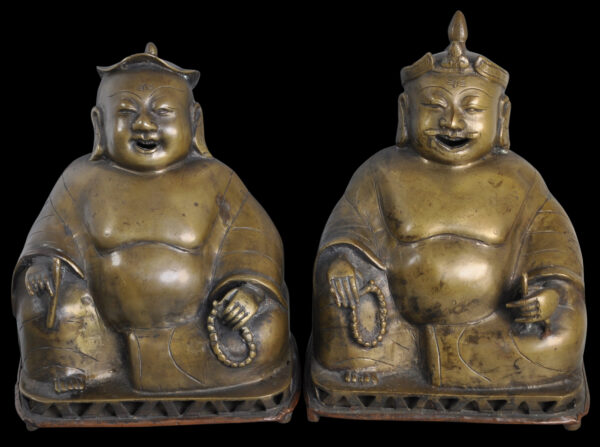 8947
Enquiry about object: 8947
Unusual Pair of Mongolian Beaten Brass Images of Budai
Mongolia circa 18th century
height: approximately 19cm, width: 15cm, depth: 10cm, combined weight: 2,386g
Each of this pair of figures from Mongolia shows images of the monk Budai. They are made of hand-beaten rather than cast brass. They are almost a mirrored pair of the other. Each sits on a low, pierced platform, with the right knee up and the other laying flat. Each holds a hand rosary in opposing hands, and the other hand holds what might be ab elongated silver ingot to symbolise plenty. The toes of the right foot of each poke from beneath the robes. One has a moustache and the other does not. Also, one wears what might be a traditional winter cap of a Mongolian khan – traditional ruler or overlord – and the other wears a khan's crown.
The base of each is enclosed with a copper consecration plate engraved with an elaborate double vajra motif.
Budai was a Chinese monk who is often identified with and venerated as Maitreya Buddha in Chan Buddhism, a type of Buddhism which became popular in China and which then spread east. He is said to have lived in the 9th-10th century AD in the Wuyue kingdom.  His happy personality and eccentric lifestyle distinguished him from other Buddhist masters or teachers. Usually he is shown with a jovial countenance, smiling or laughing. Many legends regarding Budai concern his fondness for food and drink and so he is usually depicted as rather portly as well.
Depictions of Budai are closely related to the arhat Hvashang in Mongolia, and the two sometimes almost merge. Both are depicted as joyful, rotund and holding a rosary.
The two figures here are very sculptural and decorative. Both are in excellent condition and their age is very clear. The figures are rare – we are not aware of any others quite like them.
References
Meinert, C. (ed.), Buddha in the Yurt: Buddhist Art from Mongolia, Vols 1& 2, Hirmer, 2011.
Tsultem, N., Mongolian Arts and Crafts, State Publishing House, Ulan-Bator, 1987.