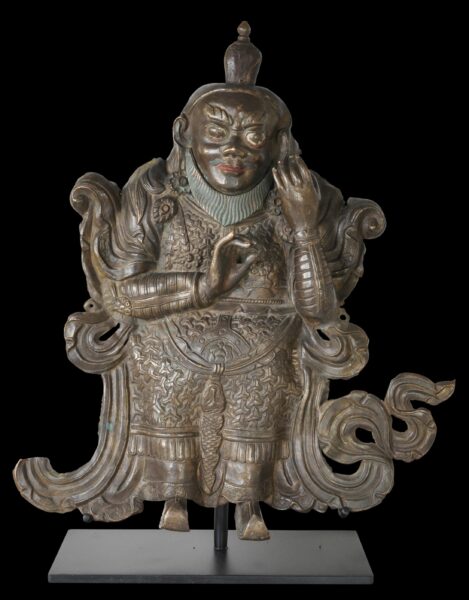 8715
Enquiry about object: 8715
Rare Mongolian Repoussed Copper Plaque of a Lokapala
Mongolia 18th century
height: 33cm, width: 28.5cm, weight: 901g
Provenance
private collection, UK
– scroll down to see further images –
This figure known as a lokapala has been produced in high relief from repoussed and chased copper. The repousse work is very fine and the details are unusually good. The plaque most probably was intended to be attached to the walls of a monastery. Mongolian repoussed copper plaques such as this example are rare.
The figure is one of the four Mongolian guardians of the sky (tengeriin dörwön xaan), also known as the guardians of the four cardinal directions, or the guardians of the four quarters.
The figure would have held an attribute in his hands – probably a lute-like pipa instrument – thereby suggesting that the identity of this lokapala is Dhritarashtra, the guardian of the east.
The figure wears traditional aristocratic Mongolian dress, has a chorten-like hat finial, and wears delightful, up-turned boots (gutuls). There is a separately-made beard attached to the chin.
There are traces of polychrome.
There are some losses, notably the attribute as mentioned, and also the flowing ribbon on the figure's lower right. Overall, the lokapala is rare and highly decorative.
It comes with a black metal custom-made stand.
References
Berger, P., & T. Tse Bartholomew, Mongolia: The Legacy of Chinggis Khan, Thames & Hudson, 1995.
Spink, The Mirror of the Mind: Art of Vajrayana Buddhism, Spink London, 1995.