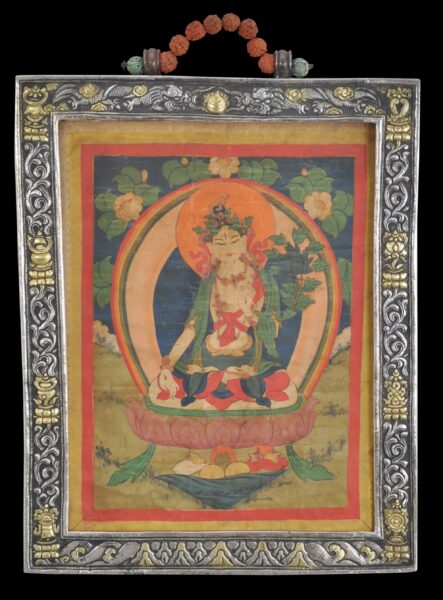 9186
Enquiry about object: 9186
Mongolian Framed Thangka of the White Tara (Dolma Karpo)
Mongolia 18th-19th century
length: 31.9cm, width: 25.3cm, depth: 2.3cm, weight: 1,536g
This large gilded and silvered copper frame with a glass window encloses a thangka image of the White Tara (known in Tibet as Dolmo Karpo) painted on cloth. The painting is earlier than the frame – the frame dates to the 19th century and perhaps the painting is 18th century. Possibly the painting was previously sewn onto a larger bolt of Chinese silk cloth as is typical of thangka paintings and was removed and framed in the 19th century.
The painting shows the White Tara, who is associated with longevity, who was born from a tear in the left eye of the bodhistattva Avalokitesvara with seven eyes – the usual pair plus one on the forehead, the soles of each foot, and on each hand. Her seven eyes behold all suffering throughout the universe.
Tara sits in vajra pose,  cross legged on a lotus throne in front of a rainbow aureole that is surrounded by sprays of pink camellia leaves and blooms.  A bowl that holds a conch, a mirror, cymbals and peaches is in front of Tara.
The painting has three letters in Lantsa script written vertically on the reverse – om ah hum – as a consecratory mantra. The use of an Lantsa inscription on the reverse of a Mongolian painting rather than Mongolian is typical. Lantsa was (and still is) associated with religious inscriptions in Mongolia.
The reverse of the frame is enclosed with pinewood which shows obvious age. The top of the frame has two eyelets through which a loop of well-worn rudraksha seed beads coloured with cinnabar red and with a turquoise-coloured bead at each end is threaded to allow the frame to be suspended.
The frame itself has been silvered and is chased with the eight Auspicious Symbols of Himalayan Buddhism, the details of which have been given gold highlights.
The frame and the thangka are all in fine, stable condition.
References
Lipton, B., & N.D. Ragnubs, Treasures of Tibetan Art: Collections of the Jacques Marchais Museum of Tibetan Art, Oxford University Press, 1996.
Meinert, C. (ed.), Buddha in the Yurt: Buddhist Art from Mongolia, Vols 1& 2, Hirmer, 2011.