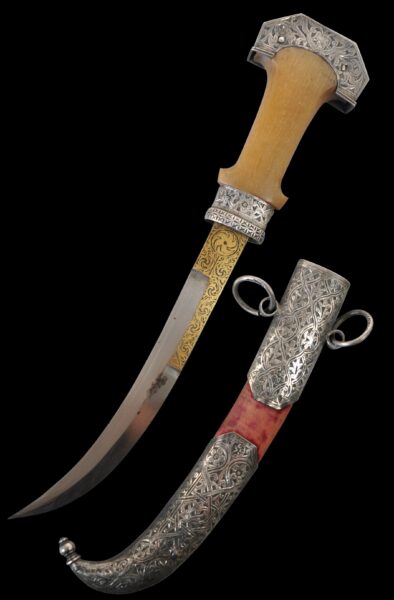 9348
Enquiry about object: 9348
Moroccan Silver-Clad Dagger with Blond Rhinoceros Horn Hilt (Koummiya)
southern Morocco 19th century
overall length: approximately 41.5cm, weight: 628g
This dagger and sheaf is from the Anti-Atlas of Morocco. The hilt comprises a large section of carved blond rhinoceros horn enchased in silver mounts. Rhinoceros horn was reserved for the most expensive daggers in Morocco. The rhinoceros horn section used here is particularly large and beautiful. It is blond, probably from the white rhinoceros.
The blade is of steel, curved, double-edged and overlaid with gold on the upper part on both sides. The main feature of the gold decoration is a solar-like motif reminiscent of the Andalusian rose pattern introduced from the Iberian peninsula by Jewish settlers.
The sheaf is of wood encased in chased and engraved silver. It ends in a bud-like finial. Two rings silver rings on each side allowed a long cord to be attached to each and the cord would be worn over the shoulder and diagonally across the chest to allow the dagger to rest at the wearer's side where it could be easily reached. The rings themselves have been stamped partly with decoration. The mid-section of the sheaf is encased in red silk.
The silver on the chape and the scabbard is decorated with palmettes and arabesques, all in a trellis-like form.
Curved daggers such as this example was worn in southern Morocco, mostly by Berber men. Known as a koummiya, it is among three types of daggers worn by Berber men in Morocco. All three look quite similar but differ according to blade length and shape. The others are known as a sboula and a khanjar.
Islamic prohibitions on mean wearing excessive jewellery were circumvented by men wearing elaborately decorated daggers. In this way, this dagger can be seen as both utilitarian and a form of jewellery for men. Such a dagger would have been worn by a man in rural areas during festival occasions. Today such daggers are only worn as part of a traditional wedding costume.
The dagger here is in very fine condition and has obvious age.
References
Boele, V. (ed.), Morocco: 5000 Years of Culture, Kit Publishers/Lund Humphries, 2005.
Clarke, C. (ed.), Arts of Global Africa: The Newark Museum Collection, Newark Museum, 2017.
Mourad, K., F. Ramirez & C. Rolot, Arts et Traditions du Maroc, ACR Edition, 1998.
Musee Berbere, Musee Berbere/Berber Museum, Editions Jardin Majorelle, undated.
Seiwert, W.D., Jewellery from the Orient: Treasures from the Bir Collection, Arnoldsche Art Publishers, 2009.