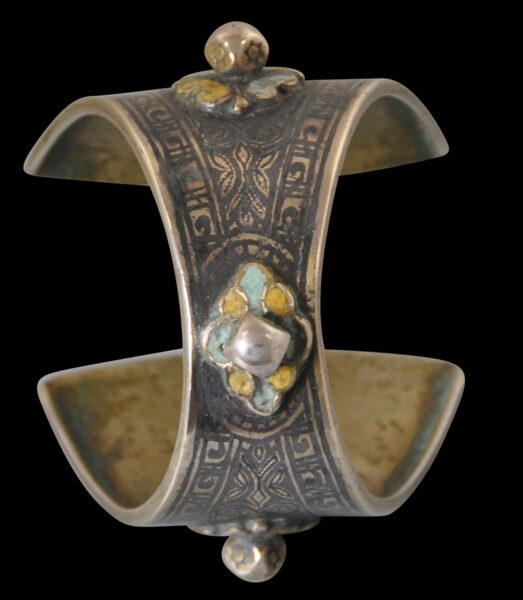 9296
Enquiry about object: 9296
Moroccan Niello & Enamel Silver Bracelet
Berber people, Central Anti-Atlas, Southern Morocco, possibly the Tagmout region circa 1930
internal diameter: approximately 6cm, weight: 70g
Provenance
private collection, US
Bracelets such as these are a well-known type unique to southern Morocco, among Berber communities, but now scarce and difficult to find even in Morocco. The strange shape of these bracelets with their angular, pointy aspects are intended to ward off the evil eye, in keeping with other 'sharp' forms.
The bracelet is of silver and is decorated with niello with floral and geometric motifs.
It is of open form and has flared ends but which narrows opposite the opening.
The narrowest part is mounted with a prominent rivet, with a rivet on each side of this. The use of yellow and pale blue enamel about the rivet in a flower formation transforms the functional element into something quite decorative.
The blue and yellow colouring also allows a relatively precise dating of the bracelet to around 1930 which is when these colours became fashionable.
Bracelets such as this example were much favoured in southern Morocco. The nielloed patterns generally is helpful in determining the place of origin.
The example here has plenty of signs of age and is in fine condition.
References
Amel, P., et al,  Splendeurs du Maroc, Musee Royal de l'Afrique Central, Belgium, 1998.
van Cutsem, A., A World of Bracelets: Africa, Asia, Oceania, America, Skira, 2002.
Draguet, M., Berber Memories: Women and Jewellery in Morocco, Mercatorfonds, 2020.
Rabate, M., Bijoux du Maroc: Du Haut Atlas a la Vallee du Draa, ACR Edition, 2015.