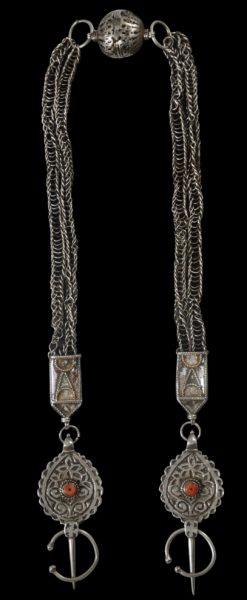 6468
Enquiry about object: 6468
Moroccan Pair of Silver Fibulae (Tisernas) & Silver Chain
Morocco 19th-20th century
total length: 69.5cm, weight: 103g
Provenance
European art market
This pair of cast fibulae or cloak pins are of thickly cast and chased silver. They have scalloped edges and each is set with a coral bead.
The back of each is stamped with a Moroccan control or town mark.
The two are connected by silver chain with rectangular silver boxes and a central silver filigree ball.
The pair come from the Berber People but local Jewish women also wore silver fibulae.
See Prolongeau-Wade (2008, p. 131) for similar fibulae.
They were used by Berber women to attach cloaks about their shoulders. Chains would have connected the two fibulae which would have hung down the chest of the wearer almost necklace like.
The pair here are in fine condition with plenty of evidence of age and wear.
References
Prolongeau-Wade, S., Voyage des au Pays Fibules, Editions du Regard, 2008.